Lauren (Talley), Amber (Epinette Saunders) & Kenna (Turner West) Team Up for "A Little Bit of Heaven"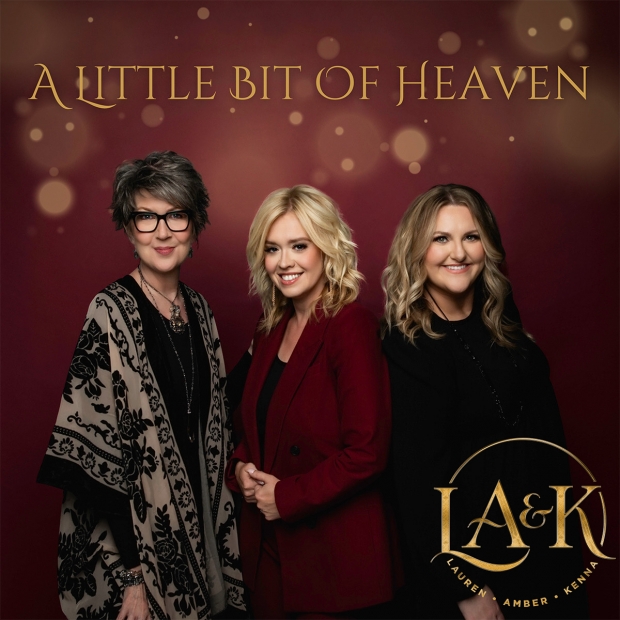 For their second Horizon Records single, powerhouse vocal trio Lauren (Talley), Amber (Epinette Saunders) & Kenna (Turner West) offer "A Little Bit of Heaven," a deliciously soulful look at the way that graces in this life give us glimpses into the joys of eternity. Centered on Lauren Talley's wide-ranging voice, the arrangement wastes no time in establishing a smooth, syncopated feeling as she delivers the opening lines:
There ain't none of us down here
No matter what we face
That ain't got a thousand reasons
To lift our voice in praise
Before long, harmonies from Amber and Kenna take turns with punctuating horn riffs in underlining the positive, spirited message of the song's chorus:
It's a little bit of Heaven 
Heaven on earth
We're holding to His word
And shaking off all doubt and fear

It's like looking through the window
Of what we know will come
When life down here is done

But 'til that day appears 
We get a little bit of Heaven down here
The interplay between voices and horns is explored to the fullest in an extended middle passage before the trio return to "A Little Bit of Heaven"'s powerful final choruses.
"This is actually one of the first songs we wrote together for the new project with our friend, Michael Farren - and it's so 'us,'" notes Kenna. "Not only is it reflective of our hearts in the lyrics but also in the music that Roger Talley so beautifully created as producer."
"This song right here is so much fun to sing," adds Amber. "It also brings a scripture to mind - Ephesians 2:6, 'being seated in Heavenly places.' I'm glad to know we are able to live an abundant life with joy even though we live in a wicked and sad world."
Concludes Lauren, "There's nothing that turns a bad day around like a good song. This one makes me want to put the top down on a convertible and take a late summer afternoon drive. No matter how bad your day is, you can still find a little bit of Heaven if you look for it."
Listen to "A Little Bit of Heaven" HERE. 
Tags : "A Little Bit of Heaven" lauren talley Amber (Epinette Saunders) & Kenna (Turner West) Kenna Turner West lauren talley Amber Epinette Saunders