Director and Producer, Tyler Sansom, Offers Exclusive Insights into the New Film "I CAN"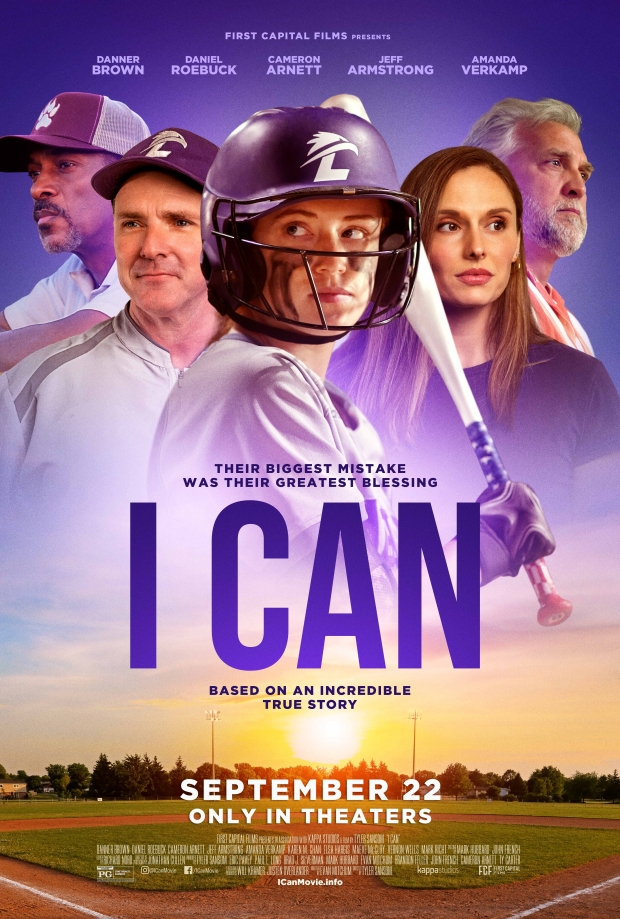 First Capital Films ("A Fathers Fight") in partnership with Kappa Studios, the postproduction home for "The Chosen," "The Shift," and "His Only Son," announce the upcoming national release of "I CAN" --- an inspirational feature-length film based on the true story of one-armed athlete Katelyn Pavey who defied the odds by becoming an All-American college softball player. 
The film is slated to release in select cities nationwide on Friday, September 22. The powerful biopic follows Pavey's remarkable personal journey of triumph with plenty of "I CAN" perseverance, her family's love, and lots of God's grace. "Whatever adversity that you're faced with, you can always find a way," says Pavey. "With God, all things are possible." 
We are honored to catch up with the film's director and producer, Tyler Sansom, for this exclusive interview. 
Q: Tyler, thank you for doing this interview with us. Why don't you start by telling us a little about yourself and your role in the movie "I CAN."
My name is Tyler Sansom. I am a pastor and filmmaker based out of Southern Indiana. I was the director for the movie "I CAN"
Q: For some of our readers who may not be familiar with the film, what is "I CAN" about?
A young couple has an adulterous affair, and the result is pregnancy. They abandon their respective spouses and begin life together. But when their baby girl is born, their precious Katelyn only has one fully-formed arm.
Parents Eric and Salena turn their lives over to God, but Eric cannot escape the pain of thinking that Katelyn's deformity is a sign of God's displeasure. Surely God has passed judgment on the sinful affair and Eric lives his life thinking the next tragedy is right around the corner. Meanwhile Katelyn grows into an incredible young woman... and an outstanding softball player.
Overcoming all odds and carrying an "I CAN" mentality, Katelyn rises above her disability and becomes a star high-school center fielder. She does the unimaginable and plays her way toward a full NCAA scholarship! But in her moment of truth a serious injury threatens everything. Katelyn is forced to wrestle with God's plan for her life, and Eric is forced to wrestle with the demons of his past.
Q: How did you get to know Katelyn Pavey, and why did you decide to do a movie about her?
Katelyn and her family attend the church that I pastor. I have known her for about ten years and have watched her grow into an amazing young woman! I knew that there was a story there with her family, but it took me a long time to convince them to let me tell it. 
Q: I have read that the film was shot in 18 days, and the script's first draft was written in 9 days! Could you talk to us a little about the making of this movie?
The first draft of the script may have been complete within 9 days, but we did about 27 versions of the script. So it was about a six month process for Evan Mitchum to finish writing it. 
We were on set for LONG hours for 18 days, but the process of making a film really takes place in pre and post production. That is where the hardest work is. We were in post production, editing the film for about a year. 
Q: What were some of the highlights while you were making this film?
The cast and crew quickly became a family environment. Many of the people on the team have become dear to me. Some of them were even over at my house for Thanksgiving!
Q: What are some take-home messages from this movie?
The biggest take home message is that God is able to take your past, and use it in the future for His kingdom. We want people to understand that, no matter their past, they can overcome. 
Q: How has this film impacted your life and your faith?
Personally, this film has allowed me to see how God can take an idea and make it way bigger than I ever dreamed it could be. We are a church in a small town in Southern Indiana. To think that we would make a movie that would be in theaters all over the country is mind blowing!
For more information about "I CAN" please visit: 
https://www.facebook.com/icanmovie 
https://www.youtube.com/@icanmovie3003 
https://www.instagram.com/icanmovie/ 
Tags : Tyler Sansom Tyler Sansom interview "I CAN" "I CAN" movie Tyler Sansom news "I CAN" FILM Katelyn Pavey