Carley Arrowood Named IBMA's Momentum Vocalist of The Year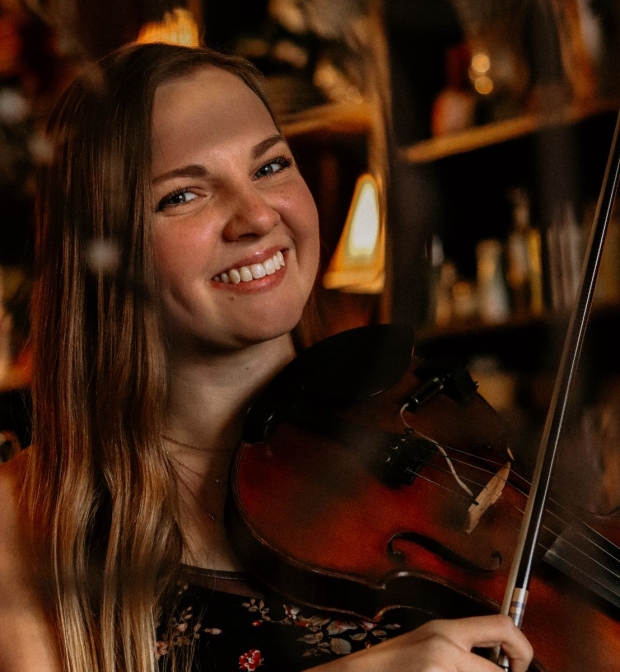 Mountain Home Music Company recording artist Carley Arrowood was named the International Bluegrass Music Association's Momentum Vocalist of the Year at Wednesday's Momentum Awards Luncheon in Raleigh, North Carolina.

"Honestly, winning Vocalist is so full circle. God is so kind," said Arrowood after the event. "I got to watch my husband Daniel win it in 2018 (before he was my husband), and in 2017 I was blessed with an Instrumentalist award on my 21st birthday. Today was my 'golden' birthday and it's just been such a sweet time, spending it with my husband and my mom and my sweet 3-month-old daughter, Eliana. She's had a blast so far at IBMA! We all have. It's such an honor to win this, and I hope I can live up to it as we continue to pursue the music we love."

With the release of her debut album, Goin' Home Comin' On, in 2022, Arrowood turned heads with charting songs, features on The Bluegrass Situation and Bluegrass Today, a music video for the title track featured on Ditty TV and placements on several streaming platforms' playlists. 

Arrowood quickly followed that release with three new singles in 2023 - "Deeper In Love," "Tsali's Run" and "Chasin' Indigo" - that encapsulate her contemporary acoustic style even more with her cutting-edge fiddling, singing and songwriting.

Her fourth single, "Moondancer," is now available for pre-save/add ahead of its October 27 release. Pre-save/add it HERE. And listen to all of Arrowood's music HERE. 
Tags : IBMA's Momentum Vocalist of The Year bluegrass Carley Arrowood Carley Arrowood named IBMA's Momentum Vocalist of The Year