Evanescence Celebrates the 20th Anniversary of "Fallen" with Deluxe Reissue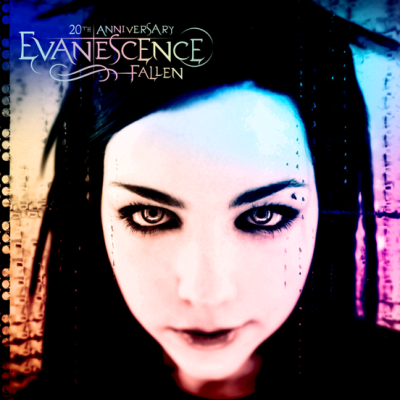 Released in the spring of 2003, Fallen resonated deeply with fans, selling more than 141,000 copies in its first week and peaking at No. 1 on Billboard's Top Christian Albums chart and No. 3 on the Billboard Top 200 Albums Chart, where it spent an astonishing 43 weeks in the Top 10. Now, two decades later, Craft Recordings celebrates Evanescence's enduring debut with a series of collectible reissues.
Available on 2-LP, 2-CD, and digital formats - as well as a Super Deluxe Edition collector's box set - Fallen (20th Anniversary Edition) will offer newly remastered audio, including the albums global chart-topping singles "My Immortal," "Going Under," "Everybody's Fool," and the GRAMMY®-winning smash hit, "Bring Me To Life." 
The expanded set also includes a trove of bonus material - ten tracks in all - comprising previously-unreleased demos and live recordings plus a selection of rare B-sides. Alongside reimagined artwork, all physical formats will include previously-unseen photos from the era, plus a handwritten foreword by Lee, who oversaw all aspects of the reissue.
At the 2004 GRAMMYS®, Evanescence received five nominations, including Album of the Year, Best Rock Album, Best Hard Rock Performance for "Bring Me to Life," and Best New Artist, taking home the latter two. The following year, "My Immortal" received a nod for Best Pop Performance by a Duo or Group with Vocals.
Today, Fallen holds steady as the sixth best-selling album of the 21st century (ranking just behind Lady Gaga's The Fame and ahead of Coldplay's A Rush of Blood to the Head) and remains one of the best-selling albums of all time, with more than 17 million copies sold worldwide. In 2022, Fallen received a rare Diamond certification from the RIAA, which recognizes 10 million units in US album sales. As a testament to the album's enduring appeal, the video for "Bring Me To Life" surpassed 1.2 billion views on YouTube, making it one of the most-watched rock videos of all-time while "My Immortal" follows close behind.
Fallen (20th Anniversary Edition) is available for pre-order today, while fans can stream apreviously-unreleased 2002 demo of "Bring Me To Life," here, in addition to the remastered album version of the hit song. 2-LP, 2-CD and digital formats will release November 17th. The classic black 2-LP set is available wide, with limited color pressings also available from select retailers including Blue Smoke (via Target), White and Purple Marble (via Barnes & Noble), Pink and Black Marble (via Indie Retail), and a unique Black & Silver blend (via Evanescence.com). 
Also available exclusively via Evanescence.com is the Super Deluxe Box Set, arriving February, 2024. Housed in a collectible shadow box-style package (inspired by Lee's songwriting journal cover art), this very limited edition includes all of the above-mentioned music as part of a 2-LP set (featuring the Black & Silver blend vinyl) plus a bonus cassette of previously unreleased demos and voice notes (see tracklist below) which is exclusive to this box set. Adding additional insight into the album is an expansive book which features new track-by-track notes from Lee, while a zoetropic turntable slipmat, featuring Evanescence's classic "e" logo, plus a set of rare photo prints and enamel pin set round out the collection.
Fallen (20th Anniversary Deluxe Edition) Tracklist (Vinyl)
 Side A
1. Going Under
2. Bring Me To Life
3. Everybody's Fool
4. My Immortal
5. Haunted
6. Tourniquet
Side B
1. Imaginary
2. Taking Over Me
3. Hello
4. My Last Breath
5. Whisper
Side C
1. My Immortal (Band Version)
2. Breathe No More
3. Farther Away
4. Missing
5. My Immortal (strings version)*
Side D
1. Bring Me To Life (demo 2002)*
2. Bring Me To Life (AOL session 4/15/2003)*
3. Going Under (live Madrid 40 PP)*
4. Bring Me To Life (live MMM acoustic 2020)*
5. My Immortal (live 2022)*
*Previously-unreleased
Fallen (20th Anniversary Deluxe Edition) Tracklist (CD/Digital)
1. Going Under
2. Bring Me To Life
3. Everybody's Fool
4. My Immortal
5. Haunted
6. Tourniquet
7. Imaginary
8. Taking Over Me
9. Hello
10. My Last Breath
11. Whisper
12. My Immortal (Band Version)
13. Breathe No More
14. Farther Away
15. Missing
16. My Immortal (strings version)*
17. Bring Me To Life (demo 2002)*
18. Bring Me To Life (AOL session 4/15/2003)*
19. Going Under (live Madrid 40 PP)*
20. Bring Me To Life (live MMM acoustic 2020)*
21. My Immortal (live 2022)*
*Previously-unreleased
Cassette Tracklist (from the Fallen 20th Anniversary Super Deluxe Edition) **
Side A
Imaginary (demo 10.10.01)
Whisper (demo 10.10.01)
Haunted (demo 10.10.01)
Everybody's Fool (final demo 10.03.02)
Taking Over Me (demo  11.15.01)
Missing (final demo 10.03.02)
Side B
Going Under (demo 8.8.02)
Tourniquet (demo 7.24.02)
My Last Breath (demo 11.15.01)
Bring Me To Life (demo 3.18.02)
Fallen Voice notes
** all tracks previously unreleased
Tags : Evanescence Evanescence Fallen Evanescence Fallen Deluxe Reissue Evanescence news