Point of Grace Announces Christmas Tour with Andrew Greer and Mark Schultz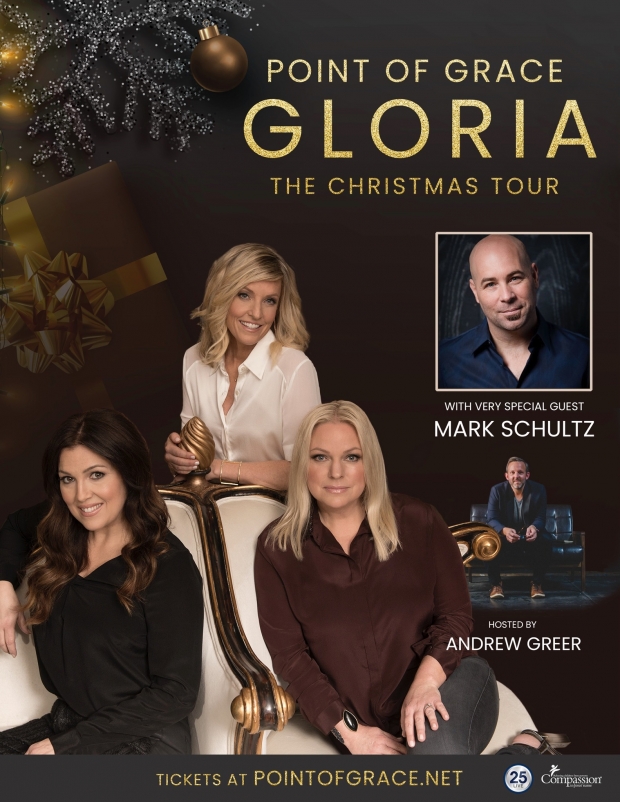 Platinum-selling, GRAMMY®-nominated Point of Grace announces their brand new Christmas tour. They will be joined by Andrew Greer and Mark Schultz. The tour will find Point of Grace performing some of their Christmas originals and festive favorites.
The trio announces, "We're so excited to celebrate our favorite time of the year by bringing our Christmas tour to YOU! We'll be joined with two very special guests, back by popular demand: @markschultzofficial and @andrewbgreer. We can't wait to see you at these shows and celebrate Christmas together."
Tickets are on sale now and all information and details can be found at pointofgrace.net  

Nov 25 Troy, OH - The Arbogast Performing Arts Center
Nov 26 Broadview Heights, OH - Cuyahoga Valley Baptist Church
Nov 30 Hendersonville, TN - First Baptist Church*
Dec 1 Little Rock, AR - PRIVATE*
Dec 3 Waco, TX - Central Christian Church
Dec 4 Asheville, NC - The Cove at the Billy Graham Training Center*
Dec 7 Deland, FL - Stetson Baptist Church
Dec 8 Florence, SC - Palmetto Street Church of God
Dec 9 White Pine, TN - Lakeway Performing Arts Center
Dec 10 Columbia, TN - The Mulehouse
Dec 19 Martinez, GA - Abilene Baptist Church*

Point of Grace's soaring melodies and rich harmonies have helped define the sound of contemporary Christian music for three decades. With total sales in excess of 8 million units, the group has garnered two Platinum records; three GRAMMY® nominations; 27 #1 singles and numerous Dove Awards. Inducted into the Oklahoma Music Hall of Fame in 2018, Point of Grace's discography includes 10 bestselling studio recordings, four Christmas albums and such Christian radio standards as "How You Live (Turn Up The Music)," "Keep the Candle Burning," "Circle of Friends" and "Jesus Will Still Be There." Comprised of Shelley Breen, Denise Jones and Leigh Cappillino, Point of Grace founded the groundbreaking Girls of Grace conference; they appear regularly on the historic Grand Ole Opry stage; and they have authored multiple books, including 2020's How You Live: Lessons Learned from Point of Grace. 
For further information, visit pointofgrace.net 
Tags : Mark Schultz Point of Grace andrew greer point of grace christmas tour