Colton Dixon to Sing National Anthem for Kansas City Chiefs & Releases Christmas Single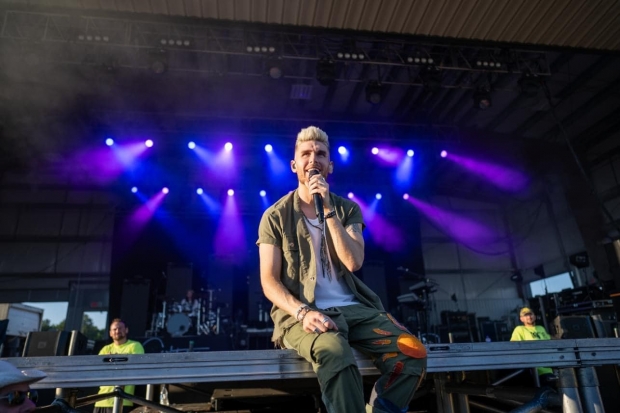 On October 22nd, Colton Dixon will make his NFL debut when he sings the National Anthem for the defending Super Bowl champs, The Kansas City Chiefs, when they play the LA Chargers at GEHA Field at Arrowhead Stadium.  Live on CBS, while Dixon has performed the National Anthem during a Nashville Predators NHL game, he's looking forward his first NFL experience in Kansas City.   
Dixon is also ringing in Christmas early with the debut of the original track, "Home For Christmas," available across all DSPs today. Musically, the song brings a modern, whimsical feel to the meaning of being home for Christmas.  About the sentiment of the song, Dixon says, "Being on tour all the time, there is nothing like being home for the holidays, and remembering the reason for the season with the ones you love around you.'" 
Dixon and Jordan Feliz have also kicked-off their  "The Love & Light Tour" in Searcy, AR., which will be followed by another 30 U.S. cities including Dallas, TX., Portland, OR., Denver, CO., Cleveland, OH., and Lancaster, PA.. All dates listed below, while tickets and VIP Q&A passes are available at www.coltondixon.com.   

Most recently receiving a GMA Dove Award nomination for Song of the Year with Dixon's massive multi-format No. 1 hit "Build A Boat," the nod follows a K-LOVE Fan Award nomination for Song of the Year and what ultimately became the longest running No.1 Mediabase Christian AC song of 2022.   "The Love & Light Tour" (all dates subject to change):

September:

28 -Lions Arena Searcy High School- Searcy, AR

29 - Abundant Life Christian Center -  La Marque, TX

30 - Hippodrome Theatre - Waco, TX*
 
October:

1 - Fellowship Dallas - Dallas, TX

3 - Moody Coliseum - Abilene, TX

5 - Without Walls Church - Mesa, AZ

6 - Bonita Valley Community Church - Bonita, CA

7 - Gateway Church - Visalia, CA

8 - Redding Civic Auditorium - Redding, CA

12 - Parkway Christian Center - Grants Pass, OR

13 - Sunset Church - Portland, OR

14 - Whatcom Community College Pavilion - Bellingham, WA

15 - Temple Theatre Tacoma - Tacoma, WA

18 - Riverside Baptist Church - Denver, CO

19 - Evangelical Free Church - Grand Island, NE

20 - Countryside Church - Spearfish, SD

21- The Goss Opera House - Watertown, SD

27 - First Assembly of God - Montgomery, AL

28 - Earle May Boat Basin - Bainbridge, GA

November:

1 - Blue Gate Performing Arts Center - Shipshewana, IN

2 - Woodlands Church - Plover, WI

3 - Cuyahoga Valley Church - Cleveland, OH

5 - St. Lorenz Lutheran Church - Frankenmuth, MI

10 - Harvest Church - Lexington, SC

11 - Charleston Southern University - North Charleston, SC

12 - Unity Baptist Church - Newnan, GA

15 - Holland Civic Center - Holland, MI

16 - The Donnell Theater - Findlay, OH

17 - Lancaster Bible College - Lancaster, PA

18 - The Patriots Theater - Trenton, NJ

19 - Word of Life Ministries - Greensburg, PA 
Tags : Colton Dixon Colton Dixon National Anthem Kansas City Chiefs Home for Christmas