Travel Sci-Fi Audio Thriller, "The Salvation," Launches Tomorrow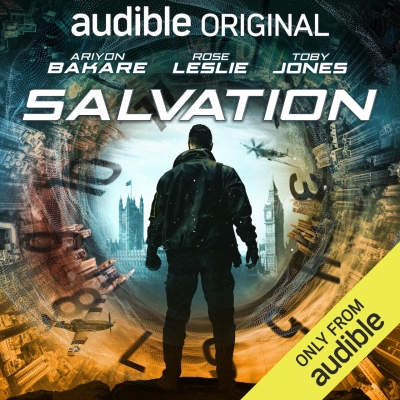 The Salvation, a new eight-part science fiction audio thriller, will premiere Thursday, October 5th, on Audible via the audio-first entertainment company Fresh Produce Media and the British entertainment company Free Turn Entertainment.
Written by multi-platinum selling musical artist and writer Justin Lockey, and recorded in London, The D.C. Salvation stars Ariyon Bakare (His Dark Materials), Rose Leslie (Game of Thrones), and Toby Jones, OBE (The Hunger Games, voice of Dobby in Harry Potter, Indiana Jones and the Dial of Destiny). The series is directed by Boz Temple-Morris, with additional writing by A.K Benedict and Jeffrey Aidoo.
A unique listening experience that blurs the boundaries of time, and takes on themes ranging from race to mental health, The Salvation delivers a thrilling and unique science fiction experience, one that juxtaposes elements of traditional espionage and time-bending concepts with intense action sequences, all done over audio. 
The story follows David Miller (Bakare), a war-scarred veteran grappling with PTSD, as he makes a startling discovery-his traumatic flashbacks are gateways to time travel. Recruited by the shadowy Fallen Arrow, David undergoes a surreal transformation into a time agent, wielding a unique power triggered by "The Lullaby." His mission: apprehending a rogue soldier wreaking havoc throughout history. As David navigates a secret war for time-altering technology, he must safeguard his newfound abilities from rival factions. 
David's perilous missions across pivotal moments in history - from the Great War to the Cold War and beyond - weave a mind-bending narrative that spans decades and challenges reality itself.
Listen HERE
Colin Moore, Chief Content Officer for Fresh Produce Media, said "The Salvation is a great example of our approach to storytelling in audio, highlighting the immense talents of our voice actors to really grip the audience and transport them into the action - in this case, a sci-fi adventure story that will resonate in the US, UK, and beyond." 
Jon Hamm, CEO and Founder of Free Turn Entertainment, added: "Our vision for The Salvation was to craft an utterly immersive auditory journey for our audience. It mirrors our ambition of producing a blockbuster Hollywood feature film within the realm of audio. With a stellar cast, top-tier audio design, and an original score, we've assembled all the essential elements to transport our listeners into the thrilling worlds of time travel and espionage. From the humble huts of Bletchley in 1945 to the bustling streets of 1970s Berlin, the harrowing battlefields of France in 1918 to the terrifying scenes of today's modern warfare, we invite our audience to step into these vividly realized worlds."
Boz Temple-Morris said: "The sheer ambition of this project made it a real joy and a huge challenge. We're using sound to take listeners on an action-packed and highly immersive journey through time, landing in different countries, and different points in history, throughout. For us it's a chance to take storytelling in sound to another level; breathlessly exciting to make and, hopefully, to listen to!"
Writer Justin Lockey added: "The Salvation was born from a lifelong fascination with the perception of time and history, depending on where you experience it from. How we all see, hear, remember and physically experience the world, colored by our own unique perspectives."