John Crist Announces 30+ Dates for 2024 "Emotional Support Tour"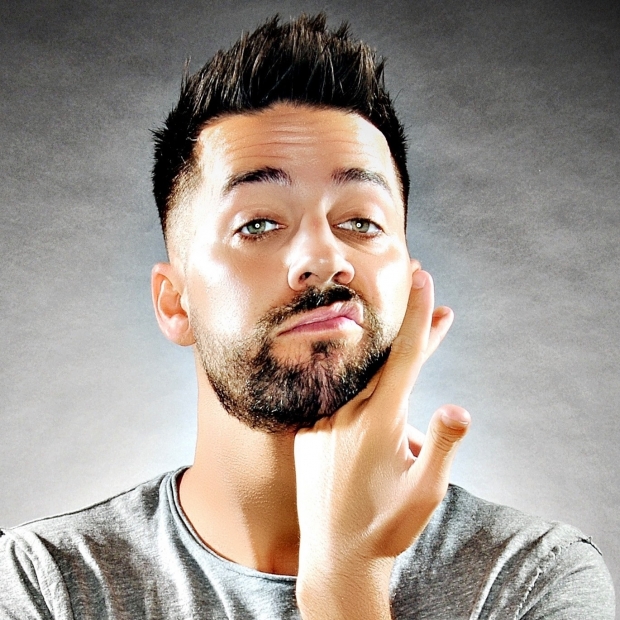 One of the nation's fast-rising comedians, John Crist, has sold out venues across the nation on his 'Emotional Support Tour' since February, and today (10.30), he announces an extension with 30+ new dates through May 2024. Kicking off Thurs., Jan. 18 in North Charleston, SC, Crist's 2024 leg of the 'Emotional Support Tour' will cover cities in both the U.S. and Canada, and it includes a stop at Nashville's historic Ryman Auditorium, as well as other major cities including New Orleans, Cleveland, Toronto and more. Tickets are on sale this Friday (11.3) at 10 AM (local time) at johncristcomedy.com.
"I'm not surprised we're adding all these new dates! Every time we do the show and post clips of it online, the comments are filled with people asking, 'When are you coming to my city?,'" says Crist. "And every night in our meet and greets, people tell us they flew to see the show, so we figured we'd add as many more cities as possible in 2024!"
A viral sensation, Crist has amassed a loyal fanbase of 7+ Million followers and more than 1 Billion video views - all thanks to his no-holds-barred approach to southern-bred humor and undeniable relatability. Named among Pollstar's Top 10 Comedy Tours in the World and on track to sell well-over 100,000 tickets, here's a peek into why fans can't get enough of his laugh-out-loud, stand-up set: 
Why Are Women Always Trying to Get Away?
Unhinged Extended Family Group Chats
Earlier this year, the Georgia native-turned-Music City resident released his latest special, "John Crist: Would Like to Release a Statement" (out 5.23), which has since amassed more than 100 Million views in clips across social media. In 2022, he not only released his second special, "What Are We Doing?," via YouTube and his best-selling, debut book, "Delete That" via Penguin Random House, but he also launched his weekly podcast, "Net Positive" - one of the fastest-rising comedy podcasts in the nation, which features bi-weekly, in-depth conversations with special guests including fellow comedians Matt Rife, Leanne Morgan, and Trey Kennedy, musicians Tyler Hubbardand Scott Stapp of Creed, and more.
From NASCAR to the popular "church or weed shop" debate, Country music lyrics in real life and more, Crist covers all of life's important topics across the internet. To purchase tickets to the 'Emotional Support Tour' and for additional information on John Crist, please visit johncristcomedy.com.
John Crist's 2024 'Emotional Support Tour' Dates:
Thu., Jan. 18 | North Charleston Performing Arts Center | North Charleston, SC
Fri., Jan. 19 | Koger Center for the Arts | Columbia, SC
Sat., Jan 20 | Wilson Center | Wilmington, NC
Sat., Jan 27 | Ryman Auditorium | Nashville, TN
Fri., Feb 2 | Peace Center | Greenville, SC
Sat., Feb. 3 | Knoxville Civic Auditorium | Knoxville, TN
Sun., Feb. 4 | Von Braun Center | Huntsville, AL
Fri., Feb. 9 | Amarillo Civic Center Complex | Amarillo TX
Sat., Feb. 10 | Memorial Auditorium | Wichita Falls, TX
Sun., Feb. 11 | Buddy Holly Hall | Lubbock, TX
Fri., Feb. 16 | Carnegie Library Music Hall of Homestead | Munhall, PA
Sat., Feb. 17 | Secrest Auditorium | Zanesville, OH
Sun., Feb. 18 | Playhouse Square | Cleveland, OH
Fri., Mar. 1 | Saenger Theatre | Mobile, AL
Sat., Mar. 2 | Orpheum Theater | New Orleans, LA
Sun., Mar. 3 | Smart Financial Centre | Sugarland, TX
Fri., Mar. 8 | Royal Oak Music Theatre | Buffalo, NY
Sat., Mar. 9 | Embassy Theatre | Fort Wayne, IN
Sun., Mar. 10 | Peoria Civic Center Theater | Peoria, IL
Fri., Mar. 22 | Shea's Performing Arts Center | Buffalo, NY
Sat., Mar. 23 | Queen Elizabeth Theatre | Toronto, ON
Sun., Mar. 24 | Warner Theatre | Erie, PA
Thu., Mar. 28 | Durham Performing Arts Center | Durham, NC
Fri., Mar. 29 | Macon City Auditorium | Macon, GA
Sat., Mar. 30 | Soldiers and Sailors Memorial Auditorium | Rochester, MN
Fri., Apr. 12 | Mayo Civic Center | Rochester, MN
Sat., Apr. 13 | Palace Theatre | St. Paul, MN
Sun., Apr. 14 | DECC Symphony Hall | Duluth, MN
Thu., Apr. 18 | San Jose Civic | San Jose, CA
Fri., Apr. 19 | Luther Burbank Center for the Arts | Santa Rosa, CA
Sat., Apr. 20 | Redding Civic Auditorium | Redding, CA
Thu, Apr. 25 | Benjamin & Marian Schuster Performing Arts Center | Dayton, OH
Fri., Apr. 26 | Otis A. Singletary Center for the Arts | Lexington, KY
All Upcoming 'Emotional Support Tour' Dates:
Thu., Nov. 2 | Palace Theatre | Columbus, OH
Fri., Nov. 3 | Rialto Square Theatre | Joliet, IL
Sat., Nov. 4 | Coronado Performing Arts Center | Rockford, IL
Sun., Nov. 5 | The Riverside Theater | Milwaukee, WI
Fri., Nov. 10 | Burton Cummings Theatre | Winnipeg, MB
Sat., Nov. 11 | Northern Alberta Jubilee Auditorium | Edmonton, AB
Sun., Nov. 12 | Southern Alberta Jubilee Auditorium | Calgary, AB
Thu., Nov. 16 | Santander Performing Arts Center | Reading, PA
Fri., Nov. 17 | Strand Theatre | York, PA
Sat., Nov. 18 | Harrison Opera House | Norfolk, VA
Sun., Nov. 19 | Altria Theater | Richmond, VA
Thu., Nov. 30 | Abilene Convention Center Auditorium | Abilene, TX
Sat., Dec. 2 | Orpheum Theatre | Phoenix, AZ
Thu., Dec. 7 | Majestic Theatre | San Antonio, TX
Fri., Dec. 8 | ACL Live at the Moody Theater | Austin, TX
Sat., Dec. 9 | Jefferson Theatre | Beaumont, TX
Sun., Dec. 10 | Raising Cane's River Center | Baton Rouge, LA
Thu., Jan. 18, 2024 | North Charleston Performing Arts Center | North Charleston, SC
Fri., Jan. 19, 2024 | Koger Center for the Arts | Columbia, SC
Sat., Jan 20, 2024 | Wilson Center | Wilmington, NC
Thu., Jan. 25, 2024 | Mark C. Smith Hall | Huntsville, AL
Sat., Jan 27, 2024 | Ryman Auditorium | Nashville, TN
Fri., Feb 2, 2024 | Peace Center | Greenville, SC
Sat., Feb. 3, 2024 | Knoxville Civic Auditorium | Knoxville, TN
Sun., Feb. 4, 2024 | Von Braun Center | Huntsville, AL
Fri., Feb. 9, 2024 | Amarillo Civic Center Complex | Amarillo TX
Sat., Feb. 10, 2024 | Memorial Auditorium | Wichita Falls, TX
Sun., Feb. 11, 2024 | Buddy Holly Hall | Lubbock, TX
Fri., Feb. 16, 2024 | Carnegie Library Music Hall of Homestead | Munhall, PA
Sat., Feb. 17, 2024 | Secrest Auditorium | Zanesville, OH
Sun., Feb. 18, 2024 | Playhouse Square | Cleveland, OH
Fri., Mar. 1, 2024 | Saenger Theatre | Mobile, AL
Sat., Mar. 2, 2024 | Orpheum Theater | New Orleans, LA
Sun., Mar. 3, 2024 | Smart Financial Centre | Sugarland, TX
Fri., Mar. 8, 2024 | Royal Oak Music Theatre | Buffalo, NY
Sat., Mar. 9, 2024 | Embassy Theatre | Fort Wayne, IN
Sun., Mar. 10, 2024 | Peoria Civic Center Theater | Peoria, IL
Fri., Mar. 22, 2024 | Shea's Performing Arts Center | Buffalo, NY
Sat., Mar. 23, 2024 | Queen Elizabeth Theatre | Toronto, ON
Sun., Mar. 24, 2024 | Warner Theatre | Erie, PA
Thu., Mar. 28, 2024 | Durham Performing Arts Center | Durham, NC
Fri., Mar. 29, 2024 | Macon City Auditorium | Macon, GA
Sat., Mar. 30, 2024 | Soldiers and Sailors Memorial Auditorium | Rochester, MN
Fri., Apr. 12, 2024 | Mayo Civic Center | Rochester, MN
Sat., Apr. 13, 2024 | Palace Theatre | St. Paul, MN
Sun., Apr. 14, 2024 | DECC Symphony Hall | Duluth, MN
Thu., Apr. 18, 2024 | San Jose Civic | San Jose, CA
Fri., Apr. 19, 2024 | Luther Burbank Center for the Arts | Santa Rosa, CA
Sat., Apr. 20, 2024 | Redding Civic Auditorium | Redding, CA
Thu, Apr. 25, 2024 | Benjamin & Marian Schuster Performing Arts Center | Dayton, OH
Fri., Apr. 26, 2024 | Otis A. Singletary Center for the Arts | Lexington, KY
Tags : John Crist Emotional Support Tour john crist john crist tour