Jelly Roll Performs Two Gospel-Tinged Songs at the 2023 CMA Awards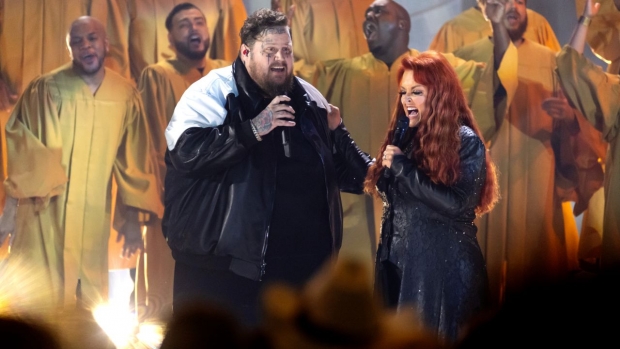 Multiple-genre artist Jelly Roll received an electrifying standing ovation for his first  "New Artist of the Year" at the 2023 CMA Awards, which took place Wednesday night (Nov. 8). Jelly Roll also kicked off the broadcast with a soulful/gospel rendition of multi-format hit "Need a Favor" with the iconic Wynonna Judd.  
Closing out the broadcast with a show-stopping message of love and unity, Jelly Roll was joined by K. Michelle for a gospel-fied rendition of the Judds' "Love Can Build a Bridge." Last year, Naomi Judd - Wynonna's mother and the other half of the Judds - died at age 76. The Judds scored 14 No. 1 hits on the Hot Country Songs chart.
They began their performance on a darkened and smoky stage. Jelly Roll took the first verse and chorus before welcoming his duet partner to the stage. Then, like two sides of the same coin, both of their voices embodied the warm yet somber tone of the classic song. Jelly Roll and K. Michelle sounded heavenly together backed by a choir.
"Love Can Build a Bridge," a song written by Naomi Judd, Paul Overstreet, and John Barlow Jarvis, was released in 1990 as the second single and title track from the Judds' album of the same name. 
Tags : Jelly Roll and K. Michelle Jelly Roll the judds Wynonna Judd 2023 Country Music Awards