Mike Janzen Speaks About the Psalms and How They Have Inspired His New Album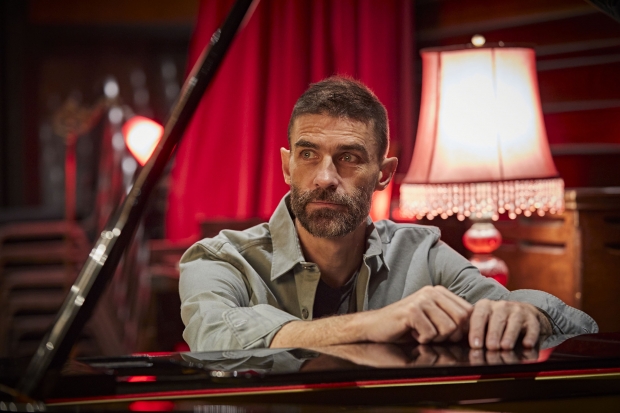 Melding jazz, pop and classical styles, Juno and GMA Covenant Awards-nominated Mike Janzen independently releases his third album of Psalm interpretations, Songs from the Canyon. Available at digital and streaming outlets everywhere from Wings Access via https://wingsmusic.lnk.to/SongsfromtheCanyonThePsalmsProjectVolIII, the project features Janzen musically painting vivid, powerful textures as he explores Creation's awe-inspiring landscapes along with the deep, plunging canyons of life's suffering.
Produced by award-winning Timothy Abraham, the album has a profound sonic diversity, resonating from soaring strings to a belting gospel choir. Rich cinematic textures grace these 11 innovative compositions, including on the song "Steady." The video was filmed by Mitch Fillion at All Saints Kingsway in Toronto and features the Powerhouse Fellowship Soul Choir.
Q: Mike, thanks for doing this interview with us. Your music crosses many genres, including jazz, classical, pop, orchestral, Broadway, and Christian. How did you first become interested in music, and which genre first grabbed your attention?
I grew up in a small prairie town and classical music was really at the top of the heap.  I begrudgingly took violin lessons as a young child, however, I remember being super inspired to hear how Michael W. Smith took classical music and wove it into a pop song.  The rest is history as I started piano lessons shortly after.  
Q: In 2021, you released a double album on the Psalms. Why did you decide to do another album on the Psalms?
The first two albums of Psalms were written during a difficult season and so the music was mostly devotional and gentle. However, I did have a number of Psalms interpretations that were much more upbeat and just didn't fit the mold of the double album. I wasn't entirely sure what to do with the more upbeat songs (or if I liked them) and so I reached out to a producer friend to see if he could give them a listen. He completely surprised me by loving the material and I quickly signed him up for the project!
Q: Why the Psalms? Why are they important to you?
In 2016 I suffered a really devastating concussion injury that lasted for years. During those years, the Psalms became a lifeline to me as they gave me words to pray when I really didn't have much in the tank. These ancient honest prayers resonated deeply with the struggles that I was going through and reminded me that I wasn't deserted, but rather held close by God.
Q: In your walk with Jesus, can you recall a time when God used the words of the Psalms to help you through a challenging time? 
There have been so many times that the words of the Psalms have lifted me.  When I first was injured, I couldn't go for walks, talk to my wife or look at any screens. I often felt dizzy, nauseous and very discouraged. One of the first songs that I wrote music to came out of Psalm 42 where the author writes, "by day the Lord directs His love, at night His song is with me."  These words echoed through my head thousands of times over the first year of my concussion and reminded me that Jesus was with me no matter how dark the days were...that He was near the brokenhearted.  
Q: I love how you have partnered with indigenous Canadian artists on this record. How did this collaboration come about?
The opening track on the record is called "Echoes," and was written out at a family cottage in northern Ontario. I love paddleboarding and one day I was out on the water when a chant-like melody came into my head. As we were putting the track together we realized that the song needed another voice or two, so I reached out to my buddy Steve Bell in Manitoba and he recommended Coco Stevenson. 
Both the producer and I weren't able to attend Coco's recording session but when we listened back to what he had done we were blown away. Instead of replacing the chant, Coco decided to improvise overtop of the track, and it still gives me shivers when I hear his voice. The indigenous community in Canada has suffered a great deal over the years from various hurtful government policies, and yet Coco's final spoken words on the track were of blessing; "miigwetch," which means "thank you" Creator.  
Q: What were some of the highlights in making this record?
When I started out producing this album, I really didn't have much of a vision for it however my producer Timothy Abraham did. This album is the first time I've used an official producer and the cinematic soundscapes he created are just so much bigger than I could have imagined. I also loved conducting and recording a live string orchestra as well as bringing in a cooking gospel choir on two of the songs.   
Q: With the wide range of music you are involved with, do you know what your next music project will be?
That's a great question! I've got a bunch of folky pop songs that I'd love to finish recording as well as a new jazz record that should be coming out in the next 6 months. I also have a show called Reimaging Broadway that I orchestrated which will be performed in Quebec City in the spring.  
All the latest Mike Janzen music, tour and more news can be found at www.mikejanzen.ca, Facebook, YouTube, PraiseCharts, Instagram, Apple Music and Spotify. 
Tags : Mike Janzen Mike Janzen interview Mike Janzen news Songs from the Canyon Psalms