Asbury-Revival Inspired Gathering Saw Thousands in Attendance at Rupp Arena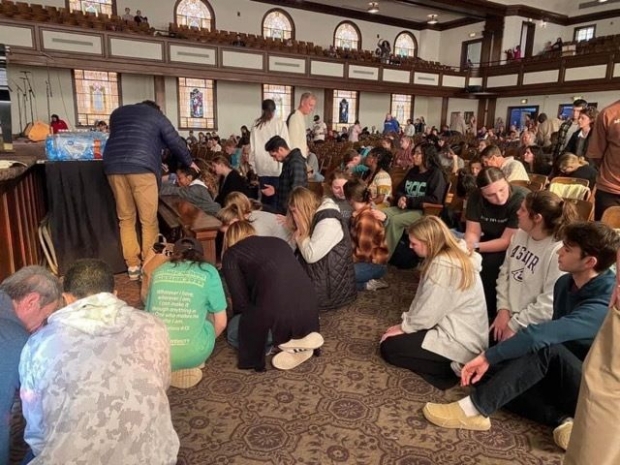 The Asbury Revival has drawn over 50,000 people from across the country and around the world to the auditorium of Asbury University in Wilmore, Kentucky. The New York Times calls it "the nation's first major spiritual revival in decades - one driven by Gen Z." This is even more remarkable because Gen Z is widely reported to be the least religious generation in American history. 
Nick Hall is the president of Pulse, an organization that aims to bring the hope of Jesus to the next generation. Like many Christian leaders, Hall believes the Asbury Revival is just the beginning of a larger revival.  
When Asbury University announced last week that they "will not be hosting or sponsoring further Outpouring events at this time," Dr. Kevin Brown, president of the university, noted, "we cannot stop something we did not start." He further observed, "this movement is not finished. Other colleges and churches are experiencing similar services. Rather, we are encouraging the continued movement of God through other people, places and ministries." 
Nick Hall, along with a group of Bible-believing pastors and ministry leaders from across the nation, responded to Dr. Brown's encouragement and quickly took action. They booked Rupp Arena February 26 from 2 p.m. to 11 p.m. to commission Gen Z and Millennial Christians to spread the Gospel and bring the power of revival to their schools, campuses and churches, and communities. 
Even though they had less than three days to get the word out, thousands attended in person for all or part of the nine-hour event. Attendance was two to three times more than could have fit in Hughes Auditorium at Asbury University, where the previous revival meetings had occurred. And while numbers are still coming in, more than 50,000 people watched online. Nick Hall said,  
"This is a time of unprecedented unity and hunger. The Rupp Arena event is about an encounter with Jesus and the testimony of what HE IS DOING spreading around the world.  

"The way churches have rallied together in such a short time is something I have never seen. Lines of division have fallen away simply because we share a longing to see God move. Big churches, small churches, black, white, Asian, Latino - it is absolutely beautiful. The day before the event, I was prayed over by 20 spiritual fathers and mothers of Lexington - people I had never met before that moment. They all said, 'We are all in.'  

"This is all about Jesus. I believe he's drawing the nations to repentance, healing his Church so we can go out with his love before his return. He is coming soon." 
During the event, students from Asbury University, Lee University, Oral Roberts University, Minneapolis, South Carolina and Wisconsin, to name but a few places, testified of the revivals breaking out in their campuses and organizations and encouraging one another to keep seeking after God with all their hearts. 
Concerning the timing of this outpouring among students, Nick Hall said: 
"The Church has been hurt for so long, and honestly, we seem to have been loud about everything but Jesus online. God is healing us, starting with our own areas of pain, because we need Jesus. He is forgiving us and filling us up so that we can love like him. This outpouring is not an end. Rather this is just the beginning." 
In addition to the testimonies and words of encouragement by students, attendees heard from Dr. Robert E. Coleman, whose book, The Master Plan of Evangelism, has been translated into 109 languages and has sold over 7 million copies in English alone. The 94-year-old Coleman, physically frail but strong in spirit, inspired the audience, declaring: 
"I rejoice in being invited to come to this meeting and look to the day when finally, the Great Commission will be fulfilled. Just as it began in the very first book of the Bible, when God made us to multiply and fill the earth, he was moving toward the time when that command would be fulfilled. And it is beautiful to read in the last chapters of the Bible that there will be a great host around the throne, drawn from all the peoples of the earth. In the meantime, we live in the mission of our Lord, who came to the earth and told us to seek and to save the lost." 
In trying to summarize the impact of the event, Nick Hall said: 
"I am forever undone by this week. I will never be the same. So many were saved last night. There were so many miracles. A man came in a wheelchair who hadn't walked in two years and danced on the platform. I don't even have a paradigm for what the heck is happening! 

"Two students who were going to commit suicide radically encountered Jesus. A security worker came to Jesus.  

"Millions more have watched videos in the past days, and pastors across America have messaged me saying they would make space in services simply because they were challenged by the bold faith they were seeing." 
Tags : Asbury-Revival Asbury University pulse Nick Hall nick hall news