Eric Swithin Speaks About the Epidemic of Fatherlessness and What the Church Can Do About It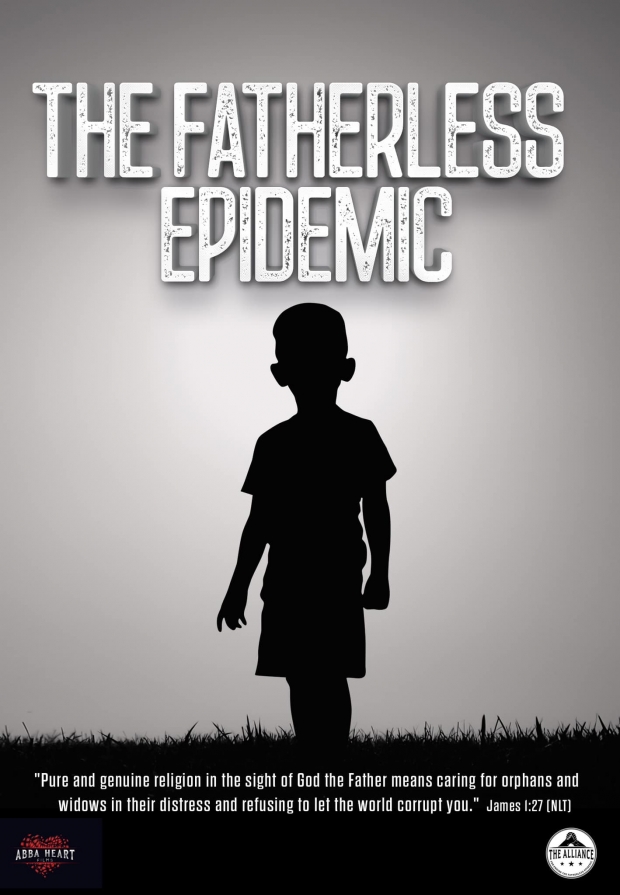 Approximately 18 million children in the United States live without a biological, step or adoptive father present in the home. The Alliance for Ending the Fatherless Epidemic is not only on a mission to eliminate fatherlessness by providing resources and grants but is also announcing the debut of its new documentary, THE FATHERLESS EPIDEMIC. Available for free on YouTube beginning Friday, March 31st at 5 p.m. CT, the film highlights mentorship as a solution to the nationwide issue of fatherlessness, challenging churches and ministries to stand in the gap. 
THE FATHERLESS EPIDEMIC is a short documentary addressing the most pressing issue in America, fatherlessness. While everyone attempts to solve our societal ills by treating symptoms, the church is being called to fight the issue at its roots. The solution to curing the epidemic is not to outsource it to the government but to mobilize the church and wage war against the enemy decimating our homes.  
We are honored to catch up with Eric Swithin, the executive director of the film and the founder of The Alliance for Ending the Fatherless Epidemic.
Q: Eric, thanks for doing this interview with us. Let's start with yourself: tell us a little about yourself and how did you first realize the nationwide issue of fatherlessness?
I am a classic example of what happens when a family gets destroyed through divorce. My parents both came from broken homes and their parents came from broken homes. So, the generational curse of brokenness was passed down to me. When I was two years old my parents divorced. The family court system made it very difficult for my dad to see me. Eventually, he started giving up and became less and less involved in my life. This was devastating for my emotional and spiritual development. As a teenager, I sought validation and initiation in all the wrong places. Essentially, I was trying to fill every void in my heart with whatever I thought might numb my pain or satisfy me. I got caught up in the gang scene and was stabbed and almost murdered at 17. I was arrested and almost lost my freedom. I became promiscuous, addicted to drugs and alcohol and was living on the streets at a young age.
Even after finding Christ, I sought validation in the Marine Corps, a business career, through materialism, and with alcohol. When Father God began to heal my father-wound, I began to dispel the lies I was believing in. I began to realize who I am in Christ and whose I am in Christ. I am a beloved son of the most high God! Eventually, I became a minister and started recognizing the same father-wound in the kids I served. I began doing research on fatherlessness and after countless hours of research and prayer, I began to see that it is the underlying root of most of our societal ills. Now, I am on a mission from God to end this epidemic. 
Q: Why is it important for children (both males and females) to have father figures in their lives?
God designed the father to reflect the love of God in his home. The primary responsibility of the dad is to point his children towards our perfect Heavenly Father. If he fails in doing this, kids will have a skewed perception of God! They will buy into lies about who God is and who they are. Secondly, dad is supposed to be the kid's primary example of what a loving father and husband looks like. This impacts the type of husband a boy will become and what type of husband a daughter will marry. This impacts what type of father or mother a kid will become. The dad should exemplify what responsibility looks like, what being a provider looks like, what being a protector looks like, what being the hands and feet of Jesus looks like. If kids don't see this, then you have a broken home. If you have broken homes, then you have a broken community. Our society is crumbling right now because we have broken
Q: Why are many men not stepping up to become role models for their children at home and in churches?
The church began to outsource its God-given responsibilities to the government back in the 60's. Remember, the church started the school system and the universities. The church started the hospital systems. The church started orphanages. The church was always the pioneer for charity and the crucial systems our culture is built upon. Now, the church is reliant on the government to solve the majority of our societal ills. That is not working because God did not design it to work that way! There is hope though! The church is beginning to wake up and engage in God's mission. They are sensing a burning call to go deeper in their intimacy with the Lord. They are beginning to adopt the heart of the Father for the broken spaces and dark places in our culture. Our film is designed to help wake them up more quickly!
Q: Tell us more about your new documentary THE FATHERLESS EPIDEMIC and how this documentary speaks to this issue?
Our documentary is something God created. He desires to call the church to action. Specifically, He is using the film to call men in the church to rise-up and engage in the Great Mandate of James 1:27, which states, "Church that is pure and undefiled, tends to the needs of the orphan and the widow." In other words, church done right fills the gap for single moms and fatherless kids. Our film will both inspire you and call you to get in the fight-in order to take back what the enemy has stolen from us. Bring a bag of popcorn and a box of kleenexes.
Q: How can the church respond to this epidemic?
First, I challenge Christians to watch the film and see what the Holy Spirit does in their hearts. If He calls you to partner with us, you can visit our "get involved" page at www.fatherlessepidmic.org and it will help you find ways to engage the mission locally and nationally. The easiest option is for the men's ministry of each church to allow us to help you set up a fatherless outdoor ministry in your church and to get you serving! It's an easy process and will breathe life into your church!
Q: What do you say to men who do not feel that they are able to mentor others?
Men are called to serve God no matter where they are in their spiritual maturity. Men can serve by grilling food for fatherless ministry events, helping fix a single mom's car, helping clean-up after an event, or shadowing a mentor that is pouring into a fatherless child. Every man can do something to help build the kingdom. God wants all of us to give of our time, money, energy, and talents!
Q: How can our readers find out more about this documentary and the resources available for them?
You can watch the movie for free by visiting www.fatherlessepidemic.com. We also offer free resources, like a free Bible Study Discussion Guide! The film is also available to watch with subtitles in over 70 languages! The Bible Study Discussion Guide is also available in Spanish!  
Go to fatherlessepidemic.movie to download resources and to receive updates on how to watch THE FATHERLESS EPIDEMIC for free beginning Friday, March 31 at 5 p.m. CT and follow on YouTube at @FatherlessEpidemic.
For more information on how to support The Alliance for Ending the Fatherless Epidemic, visit http://www.fatherlessepidemic.org/ and follow on social media at @TheFatherlessEpidemic.
Tags : THE FATHERLESS EPIDEMIC Eric Swithin Eric Swithin interview The Alliance for Ending the Fatherless Epidemic