Getting to Know Taylor Pride: His Influences, Calling, Music & More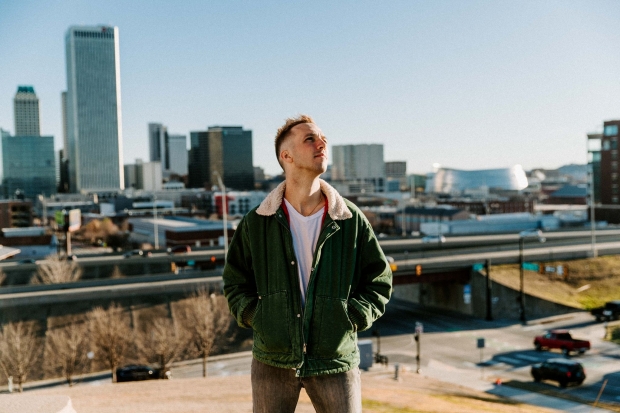 Singer and songwriter Taylor Pride has recently released his brand new single "Faithful to Finish (feat. Rebecca Lauren)." Sandwiched between indie pop & contemporary Christian music, "Faithful To Finish" is written from the perspective of God, encouraging a child to trust Him along the journey. This song serves as a musical reminder to those who find themselves lost, confused, or frustrated-God is still working, and we can fully depend on Him. 
Born and raised in Oklahoma, Pride began his musical journey at a young age, where his mother taught him how to play piano. During his high school years, Pride started writing heartfelt songs and leading praise and worship at his local church. Once he graduated, he moved to Chicago to attend Wheaton College, where he sang alongside artists such as: Todd Dulaney and the Harlem Gospel Choir.

Nowadays, he writes worship songs that encourage us to shift our gaze from our present problems and onto timeless truths. So wherever you find yourself in this journey, consider this your invitation: to stop, and to listen. As you do so, let these songs direct your eyes to Him, nudging you towards His love-little by little, day by day.  
Q: Taylor, thank you for doing this interview with us. Tell us about your childhood and how your love for music was cultivated.
I grew up in a musical household-my mom taught piano, my oldest sister (Kelley) became a professional violinist, and my other sister (Nicole) became a jazz vocalist. All that to say, I was exposed to a variety of genres-classical, worship, jazz, and gospel-as a kid, and I developed an appreciation for music at a young age.
Q: Which artists would you say influenced your sound and music?
Will Reagan and Charity Gayle are my greatest inspirations. I love how their simple melodies and powerful lyrics inspire others to worship God more fervently. It's so clear to me that both of these artists have taken time to work on their craft and to spend time in God's presence.
Q: When and how did you feel God's call to write and sing worship songs?
When I was a teenager, I had the opportunity to join the worship team at my church and at my high school. As I spent more and more time in the presence of God, I was inspired to write *new* songs to Him. Since then, I've had the opportunity to lead worship with a variety of artists, such as Stephen McWhirter, Bridge Worship, Alisha Quiñonez, and Jason Clayborn.
Q: Talk to us about your new single "Faithful to Finish." What's the story behind this song?
Rebecca Lauren and I initially met at a Maverick City Songwriting Camp. Since then, we've co-written a number of songs together over the years, but "Faithful to Finish" is the first time that we've collaborated on a release! :) It is written from the perspective of God, encouraging His children to trust Him along the journey. My prayer is that this song would serve as a musical reminder to those who find themselves lost or frustrated-God is still working, and we can fully depend on Him.
Q: I believe you have another new song coming out in May. Tell us more about this upcoming single.
I am really excited for my upcoming single-"Far Off Father." I wrote this song with one of my best friends & co-writers, Ann Chinworth, and it is written for those who feel hopeless or alone. The chorus of this song emphasizes an important truth: whatever difficulties we may face, there is a Father that holds us close and refuses to let us go.
Q: Are you currently working on a new album? What can our readers be looking forward to in terms of new music?
Yes! I am working on a worship album with my producer (Black Box Studio), and I can't wait to share it sometime late 2023 / early 2024! :)
Q: Where can our readers find out more about you and your music?
To learn more about my music, readers can follow any of these links to come and worship with me :)
Website
Instagram
Facebook
YouTube
Tik Tok
Tags : Taylor Pride Taylor Pride interview Taylor Pride news Taylor Pride new album Faithful to Finish Far Off Father