Leslie Jordan's "You Are With Me" Comes from a Place of "Desperation and Vulnerability"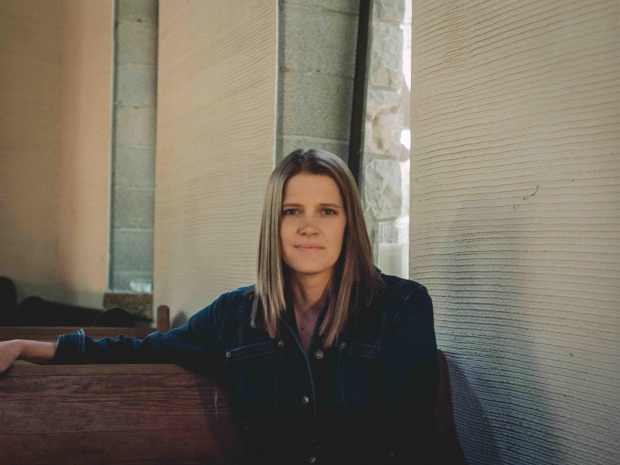 Former half of All Sons and Daughters, Leslie Jordan releases her new single "You Are With Me." The song is a deeply personal song written as her and her husband were journeying through the process of adopting their son in 2017. Wishing to hear, see, or find God amid the confusion, this song was crafted much like a Psalm.
"You Are With Me" doesn't shy away from moments of darkness, but it also turns into a hopeful melody in the face of doubt. Leslie describes her song as one of "desperation and vulnerability," themes not always common in Christian contexts and yet inspiring for people to find language and permission to express their feelings, much like the Psalms do.
Written alongside her friend Sandra McCracken, who released a first version of the song in 2020, this single was inspired by the Valley of dry bones in Ezekiel 37 as well as the comfort announced in Isaiah 40, two scriptural passages that mirrored Leslie's experience. The central message of "You Are With Me" is one of dwelling on the promise of God's presence - the Helper promised by Christ - through Whom we are never alone. Leslie hopes that the stripped-back nature of this recording will allow listeners to feel their way through times of darkness, while landing back on the sure ground that God has never left them. 
Jordan is a creative artist living with her husband and son on lush Tennessee land just outside Nashville. Jordan served on staff and led worship at an eclectic church just south of Nashville for ten years made up of a large portion of artists. It is also true that, from 2010-2018, she comprised one half of the Grammy Nominated All Sons & Daughters, is currently one of the Integrity Music Publishing staff writers, and co-founded the Nashville-based non-profit, The Fold, where she now serves as Executive Director.
In addition, what is true about  ordan but is often left unwritten, are the reasons why and how she can do these things, and these reasons are perhaps a more important part of the written account of her life. Jordan is a woman who seeks after a healthy relationship between God, herself, and others who has found herself doing so most fully when she lives as a nourisher and resource. Jordan is a Mother for many and Garden of much. 
Tags : leslie jordan "You Are With Me" all sons and daughters Integrity Music