New Theatrical Film "The Hiding Place" Brings to Life the Story of Corrie Ten Boom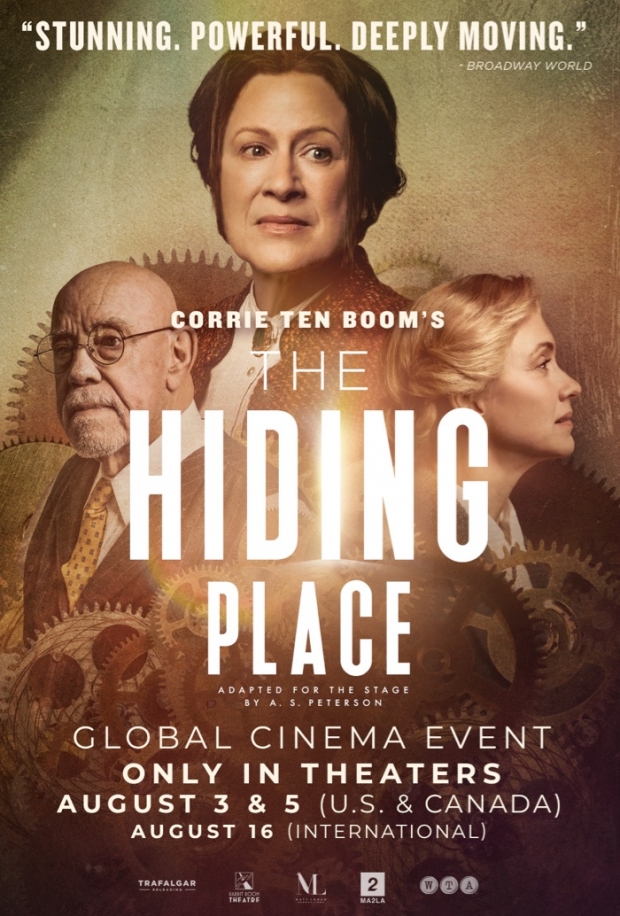 A beautifully filmed stage-play adaptation of The Hiding Place will show in select North American theaters Aug. 3 and Aug. 5 only before a one-day theatrical run in various international territories on Aug. 16. The Hiding Place tells the heroic true story of Corrie Ten Boom and her family, who risked everything to hide Jewish refugees by the hundreds during World War II before being discovered and ultimately facing the consequences.
Adapted for the stage by A. S. Peterson and directed for the stage by Matt Logan, The Hiding Place was filmed live for cinema audiences at the Soli Deo Center in Nashville, Tennessee during a four-week run to sold-out audiences in 2022. The film is directed by Laura Matula.
"Theater is something that we believe can change the world," said Peterson. "Even though The Hiding Place is set in the '40s, there are parallels to the challenges we still face. It's people hating and not accepting one another and a family in the middle of that having to choose how to react. Ultimately, it makes viewers contemplate, 'Are we going to love the people in front of us no matter who they are?'"
The film stars Nashville stage actress Nan Arnold Gurley (A Streetcar Named Desire, Gypsy, Hello Dolly!) as Corrie Ten Boom; Broadway, film and television veteran Conrad John Schuck (M.A.S.H., Annie, Nice Work If You Can Get It) as Casper Ten Boom; and actress and singer Carrie Tillis (Keep on the Sunny Side, The Tammy Wynette Story) as Betsie Ten Boom.
The Hiding Place is based on the internationally bestselling memoir by Corrie Ten Boom, which has sold millions of copies worldwide and has regularly appeared on the ECPA's Christian bestsellers list over the past 50 years. The Hiding Place is a story of faith, hope, love and forgiveness in the face of unthinkable evil. The setting is World War II. Darkness has fallen over Europe, and the boots of the Third Reich echo through the streets. But on a quiet city corner in the Netherlands some, like the Ten Booms, choose to resist. The Hiding Place is their story.
For tickets and more information, visit thehidingplacefilm.com.  
Tags : Corrie ten Boom New Theatrical Film "The Hiding Place"