Dr. Nancy Meyer Encourages Readers to Find the Courage in New Book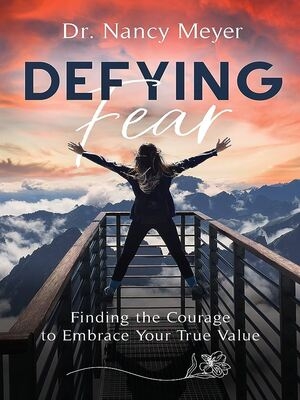 Licensed chiropractic physician turned author Dr. Nancy Meyer has released her new project DEFYING FEAR. The book is a fictional story, inspired by a compilation of true events, that will inspire people to defy fear in their own lives by embracing their true value through a focus on spiritual, emotional, and physical practices. Defying Fear is available in both print and Kindle formats through Iron Stream Media. 
From the outside, Lila Frost seems to have it all together: she is smart, educated, and accomplished. But behind closed doors, she endures consistent abuse from her husband, although she doesn't fully recognize that abuse is part of her story. Anxiety and fear are unwelcome familiars in Lila's daily life. For years, she believes the lies as well as the blatant and veiled threats her husband continually throws at her. 
But as Lila rekindles her faith, with the support of friends, she learns to defy her fear, take courageous steps, and embrace her own value. The question is, can she sustain her newfound transformation, or will old patterns once again drive her into a pit of depression and despair? Lila's future depends on one thing: choosing courage and acting in faith, again and again. 
Dr. Nancy states, "Defying Fear was written to encourage people and to inspire them to defy fear in their own lives by embracing their true value. It's done by focusing on emotional, spiritual, and physical practices. Hopefully, when people read it, they can see themselves so that their own experiences guide them through the book." 
DEFYING FEAR is now available, published by Iron Stream Media. 
Dr. Nancy Meyer offers individual and small group health and happiness coaching based on her expertise as a licensed chiropractic physician, but even more, she coaches from an experiential perspective. She brings first-hand knowledge into every coaching appointment. Dr. Nancy understands the mental, emotional, and spiritual needs that impact physical outcomes. You will receive guidance and practical benefits from Dr. Nancy's exercises, activities, tips, and tools. But her fun-filled, joyful spirit brings laughter and deeper love for self and others into each coaching session. You CAN find courage, embrace your value, and defy fear. If you want to feel inspired and motivated to accomplish your dreams, goals, and desires, book with Dr. Nancy today!  
Tags : Dr. Nancy Meyer Dr. Nancy Meyer new book DEFYING FEAR