Blind Boys Of Alabama Returns with their First Album in 6 Years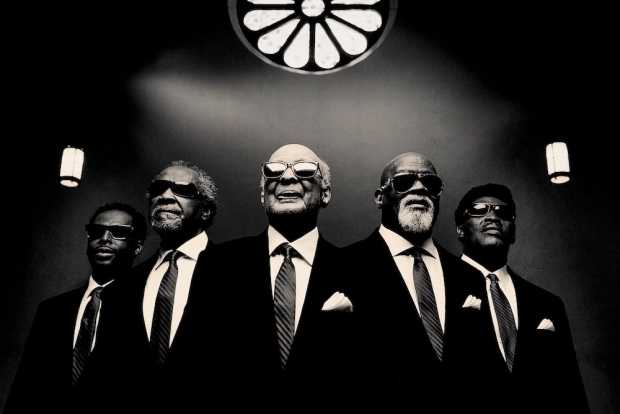 Blind Boys of Alabama return with Echoes Of The South --- their first new album in six years - which signals a homecoming for the Gospel Music Hall of Fame inductees, and a declaration of their tenacity over the span of 80 years. The eleven-song collection is a portrait of perseverance from a group well-versed in overcoming incredible odds - from singing for pocket change in the Jim Crow South, to performing for three different American presidents, soundtracking the Civil Rights movement and helping to define - and redefine - modern gospel music as we know it.
The group has reckoned with the loss of two of their own in the lead up to 'Echoes Of The South', Paul Beasley and Benjamin Moore, both longtime members of the Blind Boys' tight-knit family. 'Echoes Of The South' is released in their honor, continuing their spirit of resilience and marking their pledge to keep on singing. 
The Blind Boys of Alabama open the album with lyrics embodying a long-held core value: by singing from the heart, and surrendering to the music, the group will continue to resonate across decades and generations; "Blind Boys of Alabama, you know, we've been around a long time, but the good news is we're still here, singing and praising God." This mission statement is also at the center of "This May Be The Last Time," an uplifting short film about the group, which pays tribute to their history - through anecdotes full of wisdom from group members, and an inside look into making the new album in Muscle Shoals.
Watch "This May Be The Last Time," directed by Daniel Fox, which premieres at 1PM ET today: https://www.youtube.com/watch?v=1VQWpWmHcJ0 
Listen to the full album 'Echoes of the South' here: https://link.singlelock.com/blindboys 
Echoes Of The South finds the Blind Boys returning to their roots; on the group's first album fully made in their home state of Alabama, featuring a tracklist which draws on the music that's most inspired them throughout their careers: long-lost gospel classics, traditional spirituals and timeless R&B/soul cuts made famous by artists like Wonder, Pops Staples and Curtis Mayfield. Co-produced by Matt Ross-Spang (Margo Price, John Prine), Ben Tanner (Alabama Shakes, Jason Isbell) and Charles Driebe. The album is named for the first radio show that ever booked the Blind Boys as guests (out of WSGN in Birmingham), and the cover art features braille for the first time - two of the many personal touches that establish 'Echoes Of The South' as a "homecoming" in so many senses of the word. 
'ECHOES OF THE SOUTH' TRACKLIST
1. Send It On Down
2. Work Until My Days Are Done
3. Friendship
4. You Can't Hurry God
5. Jesus You've Been Good To Me
6. The Last Time
7. Keep On Pushin'
8. Paul's Prayer
9. Wide River to Cross
10. Nothing But Love
11. Heaven Help Us All
Tags : blind boys of alabama blind boys of alabama new album Blind Boys Of Alabama news Echoes Of The South