Attaboy Talks About Their New Music & Making It Accessible for Both Christians & Non-Christians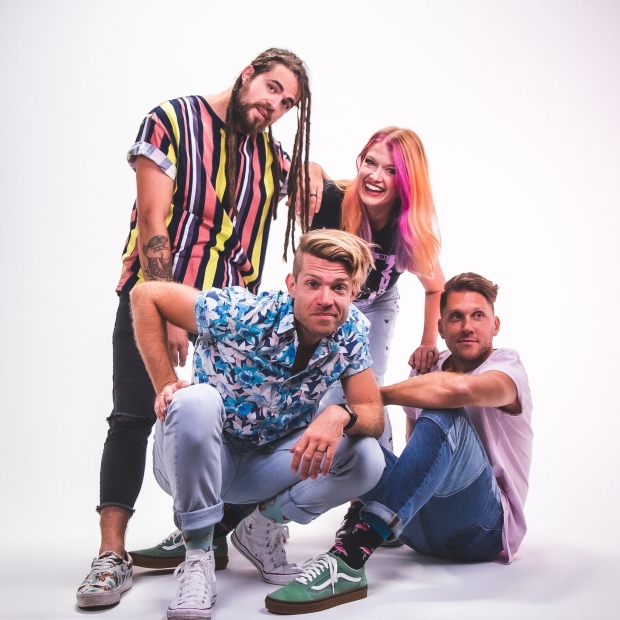 Leading school assemblies followed by evening, full-production concerts coast-to-coast, Indiana-based pop/rock band Attaboy has recently released the danceable pop track "Golden." Written by Attaboy band members Ryan Payne (vocals/guitar/piano), Jeff Edgel (guitar/piano),Melanie Watson (bass/background vocals) and Christian Watson (drums), "Golden" was produced, mixed and mastered by Doug Weier (Anberlin, We Are Leo) along with engineering by Luke Johns (The Young Escape, Jordan Feliz) 
Witnessing a ubiquitous longing for authentic social and spiritual connection, Attaboy's music and message is reaching skeptical ears-feet moving to the beat, voices finding belonging in the harmonyand hearts opening, blooming simply through the invitation to hope for something more.
During its school assemblies, the band uniquely combines its energic and relevant music with apositive message for students, sharing personal experiences of taking a stand for what is right andencouraging students to make their own decisions. Topics they cover include not judging othersbased on appearance, rejecting the negative labels placed by others, making wise decisions and notletting the past define the future. 
Q: Thank you for doing this interview with us. What I like about your music is that it has a way of appealing to the Christian and a way to speak to the non-believing listener. Is that a specific goal you aim for when writing your songs?
We want our music to be accessible to both Christians and non-Christians.  So when we write, it's from a Christian perspective but we often try to avoid using Christian lingo that would be foreign to someone in a non-Christian context.  
Q: It has been almost four years since your last album, WILD; have COVID-19 and the pandemic impacted your music?
We immediately lost over 50 tour dates when the shutdown happened, which was pretty rough to say the least. We immediately started writing music and took time to film a school assembly program and concert that we broadcast virtually for schools. That was a really weird and tough season, but we're grateful to have survived it and are now back in full swing-touring, writing and releasing new songs!
Q: What has been your vision as you release new music this year?
We're taking the release of an album a little slower this time by releasing more singles.  We've also made it a goal to have more music videos with the releases, which has been really fun so far. Getting the most recent songs into our live show and introducing them to more and more people that way has been a blast!
Q: Can you tell us more about the heart and message behind your first single for 2023's "Makin' Moves"?
We actually started writing "Makin' Moves" during the pandemic. It's about not giving up and giving in to apathy when faced with obstacles. It's cool to think we were doing this real-time as we were pivoting to live-streaming our program when everything shut down.
Q: Tell us more about the passion behind "Golden."
"Golden" is about shining light in darkness.  As Christians we called to be salt and light wherever we go-we have the opportunity to shift the atmosphere in a positive direction wherever we go.  Jesus offers us the abundant life and we get to display that and offer it to everyone we meet.
Q: In terms of more new music to come, what can your fans be looking forward to?
Our next single is gonna be a little different-more chill, but we're super excited about this one.  We're looking at a possible early spring release for that one, followed by another single or two and a full record next fall.
Q: If our readers want to see you perform live, where can they get more information?
We'd love to see you at a live show!  Follow us on social media (attaboyonline for all of them) and our website (www.attaboyonline.com).  If you sign up for the Attafam on our website, you get exclusive early access to songs and other fun bonuses plus we'll email you when we're gonna be touring nearby!
Tags : attaboy attaboy interview attaboy news Attaboy new music