"HEAVENQUEST: A Pilgrim's Progress" Launches with Digital Premiere Now through Midnight Tomorrow
 At 12:01am Eastern Time on October 25, HEAVENQUEST: A Pilgrim's Progress launched with an exclusive digital sneak peek on the official Heavenquestfilm.com website. For just 48 hours, viewers will have the opportunity to watch HEAVENQUEST in its entirety, three months prior to its traditional worldwide release on all platforms starting January 2020.   
HEAVENQUEST is a new, reimagined fantasy universe inspired by the world and characters of John Bunyan's timeless masterpiece The Pilgrim's Progress. Modernized and adapted for today's audiences, this film acts as a prequel to the beloved story, envisioning the origins of The Evangelist (renamed Vangel). Setting the stage for the journey shared in Bunyan's beloved allegory, HEAVENQUEST explores an expansive new world ravaged by a war between good and evil.   
Already the film is receiving incredible accolades from critics, stating:   
"HEAVENQUEST is a fantastical prelude to John Bunyan's infamous Pilgrim's Progress. The characters, the towns, and the journey include the same deep, spiritual allegories as Bunyan's book, both paralleling the Christian's hard, but promising journey to Christ and God's infinite kingdom." - Dove.org 
"HEAVENQUEST has a strong, inspiring Christian, biblical, moral worldview." - Movieguide 
"HEAVENQUEST's live action take on the classic brings the timely messages to life as it depicts the trials and difficult decisions we face as Christians choosing to follow Jesus and discover the mystery of God...if you and your family enjoy action, adventure & fantasy films, add this to your list to watch!" - Today's Christian Entertainment 
"The new film HEAVENQUEST: A Pilgrim's Progress tells the backstory to John Bunyan's classic novel in a real-live fantasy action format. And unlike many prequels, this one is quite good." - Crosswalk.com 
Bunyan wrote The Pilgrim's Progress in 1678 while he was in prison for holding religious services. Considered the first novel ever written in English, the book has never been out of print, it has been translated into more than 200 languages, and is considered the second most-read book after the Bible. 
A true experiment in filmmaking, Director Matthew Bilen achieved the impossible in creating HEAVENQUEST, his feature-length directorial debut. He made a faith-inspired epic fantasy film with a micro-budget; minimal crew members; a diverse international cast; extreme outdoor locations with THE REVENANT style time-of-day natural lighting; and no script other than a working treatment.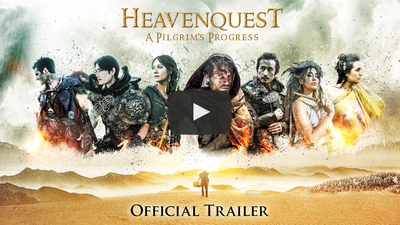 As the source material is acclaimed around the world, the filmmakers were intentional in securing an international cast of actors, including Korean superstars In Pyo Cha ("D-Day", "Sense8") and Ricky Kim ("Law of the Jungle," "Oh! My Baby"); Karyme Lozano ("Tres Mujares," "El Manantial") and Ferrnanda Romero (THE EYE, THE BURNING PLAIN) from Mexico, Australia's Peta Sergeant ("Snowfall", "Once Upon a Time in Wonderland"), and American actors Patrick Thompson ("The Return", "Living with Frankenstein") and Alan Powell ("Quantico", THE SONG). Tickets for the 48-hour premiere are only $5 and the film is available to be screened until October 26 at 11:59pm ET.
To learn more about HEAVENQUEST and view the film in its entirety, please see: Heavenquestfilm.com.  
About King Street Pictures: 
King Street Pictures develops and produces diverse, forward-thinking independent films and television shows for the global marketplace. Founded in 2016 by producers Dan Mark ("Snakehead" and "Fiction and Other Realities") and Rachel Tan ("Always"), veterans of the entertainment industry with major studio backgrounds and deep ties to Asia, King Street Pictures has a mission to champion new diverse voices in film and television, change perceptions for the next generation, and shape culture from Hollywood to the rest of the world. 
Tags : HEAVENQUEST: A Pilgrim's Progress HEAVENQUEST: A Pilgrim's Progress interview