7 Things to Know About Blanca's "The Heartbreak And The Healing"
Award-winning Curb | Word Entertainment recording artist Blanca will be releasing her highly-anticipated album, The Heartbreak And The Healing. Beginning today (7/15), fans can pre-order, pre-add and pre-save the powerhouse vocalist's upcoming LP HERE.
Here are 7 things to know about the new album:
1. The album will be released on September 23, 2022.  
2. The Heartbreak And The Healing, offers two sides of the same story - the hurt and the redemption. Written in the wake of a painful divorce, the songstress vulnerably cracks her heart wide open on the new 14-track collection that beautifully showcases the merger of her unstoppable voice and her transparent lyricism.
3. One of the album's highlights is "New Day (feat. Jekalyn Carr)," which is available today. You can listen HERE, A blend of pulsating hip-hop beats and a soulful groove, the pulls-no-punches selection welcomes five-time GRAMMY® nominee Jekalyn Carr on the second verse. Together, the two vocalists make a bold statement: They're not settling, and good things are coming their way. Unbreakable, Blanca steps into new mercies as she charts a course all her own with a good deal of grit and determination on the confident new track, which she co-wrote with Anton Göransson, Isabella Sjöstrand, Taylor Hill and Carr. 
4. A diverse fusion of pop, Latin, hip-hop and Gospel, the full-length effort follows Blanca on a journey of self-discovery as she rises from the ashes stronger and more empowered than ever before. 
5. Here's the video of "New Day (feat. Jekalyn Carr):"
6. The Heartbreak And The Healing Tracklisting:
1.   "Start Over"
2.   "New Day (feat. Jekalyn Carr)"
3.   "Even At My Worst"
4.   "Something Better"
5.   "I Got You"
6.   "In The Middle"
7.   "Uncovered"
8.   "Mi Amor"
9.   "Never Too Far (feat. Ty Brasel)"
10. "Let The Light In"
11. "Bring You Home"
12. "The Heartbreak"
13. "The Healing (feat. Dante Bowe)"
14. BONUS: "New Day (feat. Jekalyn Carr) [Gospel Remix]"
7. Here's the album cover: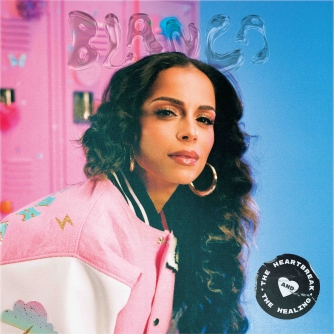 Tags : 7 Things to Know About Blanca's "The Heartbreak And The Healing" blanca Curb Records blanca new album