Kat Vazquez Takes Readers on a Journey to Discover Their True Identity with New Book
Award-winning journalist, author, TV host, producer and speaker Kat Vazquez will be releasing her new book this month. In REIGN: Restoring Identity, Kat guides readers to learn the truth of what it means to carry the fullness of God with you in your daily life. REIGN is poised to release September 22, 2022. 
"I wrote this book to share my rocky journey.  Emotional trauma, broken cycles and damaged mindsets kept me in bondage much of my adult life," Kat shares. "But dangerous prayers work! After months of prayer, journaling, and processing, I saw a blueprint of how He saw me: redeemed, filled with peace, living victoriously with Him.  This is a story of unrelenting love, patience and goodness of our heavenly Father.  We are chosen. We are His." 
REIGN is a 40-day quest discovering who God made you to be. Through daily scripture readings, prayer declarations, and creative exercises, readers learn how to Iive victoriously as His children, and activate their divine purpose.
REIGN is the next project in the YOUR STORY IS NOT DONE (YSIND) brand. Created by Kat and her husband Jorge Vazquez, YSIND is centered in a mission to spread hope. Their message is simple: that no matter what has happened in your past, God has a plan for redeeming and empowering your story.  Evangelists, authors, and TV hosts for over 15 years, The Vazquez's are called to evangelize the lost, and energize and equip Christians, while empowering the Church to do the same. 
The YSIND umbrella of projects includes: the Your Story is Not Done short film series, the Your Story is Not Done book, the No More Rejection book, and the bi-monthly "Backstory" podcast. 
The film series shares powerful stories of God reaching through our circumstance to re-write our stories to be filled with healing, hope, and redemption. Episode 1 features Brian "Head" Welch (available on Amazon Prime), Episode 2, features Annie Lobert (available on ROKU), and Episode 3, featuring Scott McNamara will be available in the coming weeks. Episode 4 will release in early fall, featuring Jonathan Cain of the band Journey. 
"I have no greater passion than to see others set free," she continues. "To see them find their true identity in Christ and walk victoriously in their divine purposes."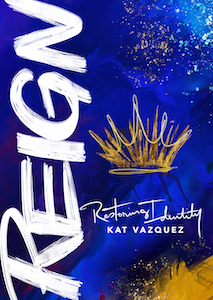 http://www.yourstoryisnotdone.com  
Tags : Kat Vazquez Kat Vazquez new book REIGN: Restoring Identity