7 Things to Know About MercyMe's New Album "Always Only Jesus"
GRAMMY®-nominated band MercyMe has announced that their 11th studio project, ALWAYS ONLY JESUS, will be available next month. Currently, the album can be pre-ordered here.  
1.  The album will be released on October 21, 2022. 
2. The 10-song collection (full track listing below) is filled with the musically inventive, lyrically substantive songs that have always been the bedrock of MercyMe's decades long career. "This one in some ways is like a warm blanket to us-not just how we're playing-but the subject matter," lead vocalist Bart Millard says. "For me personally, if I ever needed this to be front and center, not just in MercyMe, but in my life, it's now. I can't wait to hear people sing these songs and worship. Every song points back to Jesus." 
3. The project's first single, "Then Christ Came," currently playing on 70+ stations, is No.19 on the Billboard AC Monitored chart, and No.12 on Billboard's AC Indicator chart.  
4. On ALWAYS ONLY JESUS, the band invited producers Brown Bannister, Tedd T. and Jordan Mohilowski to craft the project with them and learned to strike a perfect balance between relying on the tried and true and exploring new methods of creating. "It's a cool dynamic," says guitarist Mike Scheuchzer. "It's challenging to have been in it this long and to see how it used to be and how it is and try to find the best in all of it." 
The result is a poignant album that is perfect for this time and for all time. "I feel like that's what we need right now is an anthem that we can all agree on," Scheuchzer says. "We may not agree on anything else, but we all agree that it's 'Always Only Jesus.' That's why the album feels like anthem after anthem after anthem because they are all definitive statements about Jesus."  
5. MercyMe is set to share new music, as well as plenty of fan favorites and chart-topping hits, when they return to Red Rocks for one night only, Oct. 17, 2022. The engagement will mark the band's second time to headline the iconic venue. They'll continue across the country throughout November. For all MercyMe tour info, visit http://www.mercyme.org.  
6. ALWAYS ONLY JESUS Track Listing:
01. Hands Up
02. Better Days Coming
03. Forgivable
04. To Not Worship You
05. Always Only Jesus
06. Heart Beats For Your Good
07. Grace Amazing
08. Lost In You
09. Then Christ Came
10. Nothing But The Blood 
7. This is the album cover: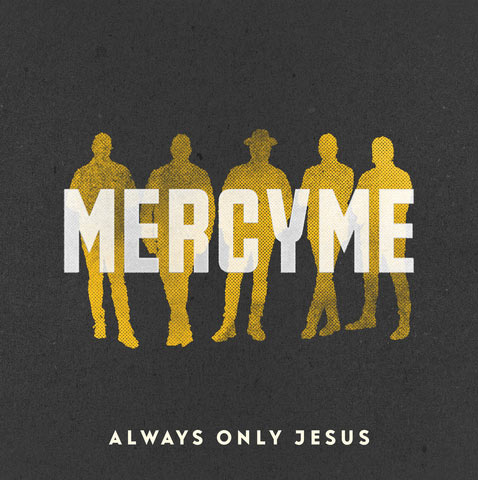 Tags : MercyMe "Always Only Jesus" Mercyme mercyme new album mercyme news Then Christ Came