Tim Menzies Enlists the Help of Ricky Skaggs, the Isaacs, Rhonda Vincent & Others for New Album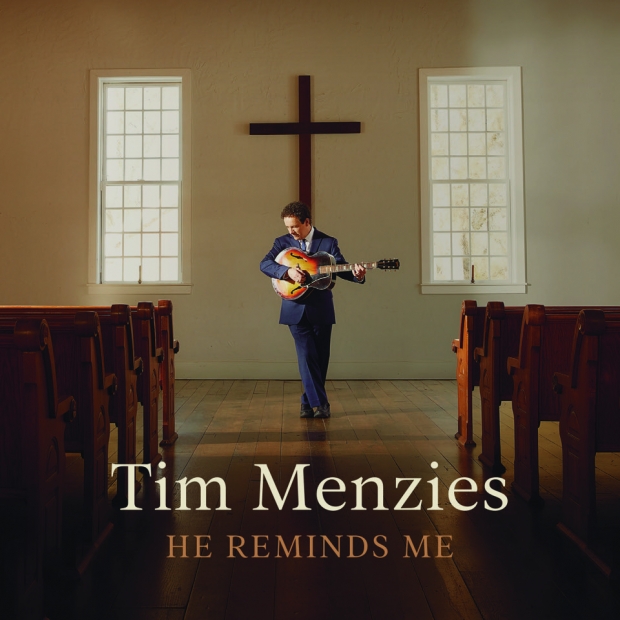 One of Nashville's most prolific songwriters Tim Menzies will be releasing his highly anticipated third Christian album He Reminds Me on March 3. The record was produced by Ben Isaacs (The Isaacs, The Oak Ridge Boys) and features collaborations with some of bluegrass and Gospel music's leading names, such as Ricky Skaggs, the Isaacs, Rhonda Vincent, Union Station's Dan Tyminsk,  Rebecca Lynn Howard and others.
For more than four decades, Tim Menzies has written, recorded and performed with some of the biggest names in music. Some of Menzie's compositions include Reba McEntire's "Love Needs A Holiday"; "Mama Knows" by Shenandoah; Mark Chesnutt's #1 hit "I Just Wanted You To Know"; the Doug Stone chart-topper "I Thought It Was You"; and "If You Were The Friend," recorded by Tammy Wynette as well as Kenny Rogers.
Menzies became a Christian in 1991 and he decided to write and perform Christian songs. His debut Christian recording, the GRAMMY®-nominated His Way of Loving Me, bowed in 2014, followed by the GRAMMY®-nominated His Name Is Jesus in 2019.    
For his new album, among the album's standout tracks is "The Church," a tender ballad honoring the eternal impact of a humble country congregation. With vocal contributions from The Isaacs' Ben Isaacs and multi-GRAMMY®, CMA and ACM Award-winning artist Ricky Skaggs, the song holds a deeply personal meaning for Menzies. 
"My wife grew up in the church, but I did not become part of the church until later in my adulthood, so this song is based on observing my wife's family through the years," Menzies explains. "Ben and Ricky were both raised in the church and have beautiful voices that blend and fit the track perfectly. Having them sing on 'The Church' felt like a divine idea, and it's been a complete blessing to me as well."      
 
Further highlights of He Reminds Me include lead single "On My Father's Side," a poignant look at Jesus as both the Son of Man and Son of God; "What Are You Waiting For," a timely invitation to surrender featuring bluegrass/Gospel icons The Isaacs; toe-tapper "Sanding Off The Edges," showcasing GRAMMY®-winning modern bluegrass trailblazers Rhonda Vincent and Union Station's Dan Tyminski; and the album's emotive closer, "One More Reason," with GRAMMY®-winning singer/songwriter Jason Crabb and Ben Isaacs. He Reminds Me also includes contributions from acclaimed country singer/songwriter Rebecca Lynn Howard, as well as Menzies' wife, Brenda, who is featured on three tracks. 
 
"Every guest vocal and musician on this album has a distinct sound that complements the lead vocal, collaborating to convey the specific message of each song," Menzies shares. "Our Savior Jesus says in Matthew 18:20, 'For where two or three come together in my Name, there am I with them.' When fellow disciples share our God-given creative gifts in His Name, His presence is undeniable. And when we sing together for His glory, I know His presence is also felt by the listener."
 
"The Bible fundamentally informs my songwriting, and as a result, many of the songs on He Reminds Me function like parables," Menzies adds. "The album has themes of God's grace and the availability of the indwelling Holy Spirit to all who seek Him, while also recognizing that the time to choose Jesus as Lord and Savior and gather others unto Him is now." 
For further information, visit timmenzies.com or turningpointpr.com. Follow Menzies on Facebook. 
Tags : Tim Menzies Tim Menzies interview He Reminds Me Jason Crabb The Isaacs Rhonda Vincent Rebecca Lynn Howard Dan Tyminsk