24 Years Ago Today Whitney Houston and Mariah Carey "When You Believe" Peaked at #15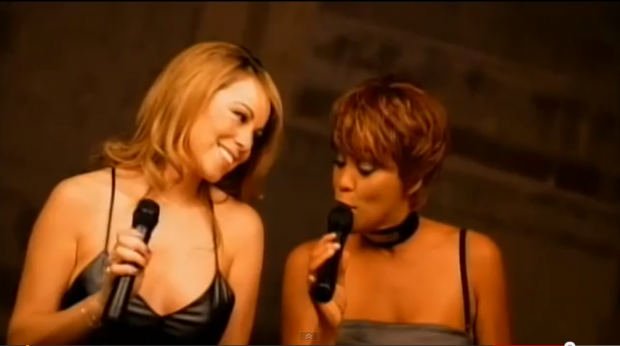 Twenty four years ago on January 30, 1999, the powerful faith-inspiring duet by Whitney Houston and Mariah Carey "When You Believe" peaked at #15 on the Billboard Hot 100. Written by Stephen Schwartz for DreamWorks' "The Prince of Egypt," the song won an Academy Award for Best Original Song at the 71st annual ceremony.  Additionally, the song serves as the soundtrack's lead single on November 2, 1998 and for both Houston's fourth studio album, My Love Is Your Love by Arista Records and Carey's first compilation album, #1's by Columbia Records.  
The Prince of Egypt is an adaptation of the Biblical story of the Exodus. "When You Believe" is sung in the film by characters Tzipporah and Miriam, and a chorus of people departing from the slavery of Egypt to the Red Sea and the Promised Land. The protagonists of this ballad recall tough times that have caused them to question their own faith: they have prayed for many nights to God, but those prayers have seemed to remain unanswered, and now they wonder if their faith has been only a waste of time. Nevertheless, the main characters realize that although the times may be difficult, their faith should remain strong. As a bridge, a chorus of children sings excerpts of the Song of the Sea in Hebrew. 
Houston said the following in an interview with Ebony: "A powerful ballad; [songwriter] Stephen Schwartz is a genius. You have to be a child of God to understand the depth of this song. Mariah and I did it as we felt it. We both felt very connected to the song because of our background. What can I say? (It is) Just a beautiful song. What a lyric! I can't talk about it-just listen to it."
There can be miracles
When you believe
Though hope is frail, it's hard to kill
Who knows what miracles you can achieve?
When you believe, somehow you will
You will when you believe 
Tags : Whitney Houston 24 Years Ago Today Whitney Houston and Mariah Carey "When You Believe" Peaked at #15 Mariah Carey Whitney Houston and Mariah Carey