Larry Sparks' "New Highway" Remastered & Out Now on Digital Platforms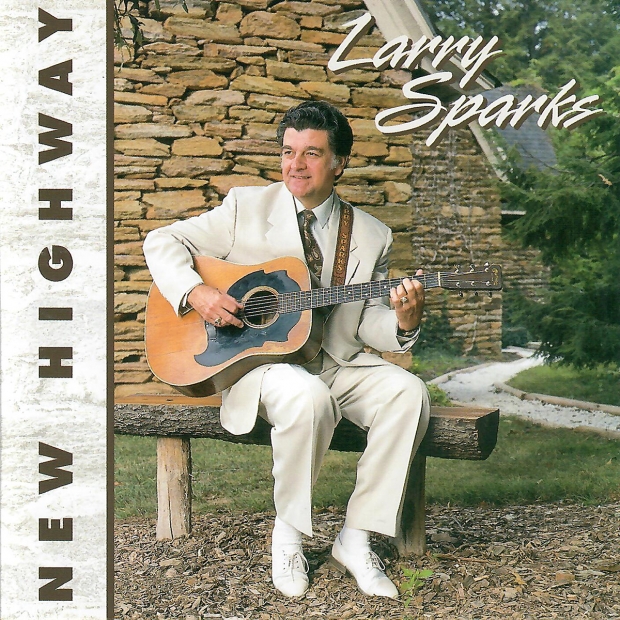 For the first time, Larry Sparks' 1998 all-gospel New Highway has been remastered and it is out now on digital platforms. New Highway is almost 25 years to the day from the original February, 1998 release by Mountain Home Music Company.  For over those 25 years, Sparks' stature has grown from that of a much-admired but insufficiently recognized master to a member of the Bluegrass Music Hall of Fame, inducted in 2015 by one of his biggest fans - Alison Krauss - and a widely hailed link between the music's first generation and stars of today like Billy Strings, who frequently performs songs from the vast catalog Sparks has delivered over the past half century and counts a June, 2022 guest appearance with him at Nashville's Station Inn as a career highlight.
Recorded at Mountain Home's western North Carolina studios, New Highway found Sparks backed by a couple of regular band members - Scott Napier on mandolin and Jim Britton on banjo - and a couple of the label's own stalwarts in Tim Surrett (bass) and multi-instrumentalist David Johnson (fiddle, dobro), as well as occasional contributors John Bowman (guitar) and Tricia Robertson (harmony vocals); as has often been the case in the studio, the pragmatic Sparks leaned toward solo vocals and handled most of the harmonies himself.
In the same vein, the project features a collection of songs typical for Sparks, who has often made quick choices just in advance of recording - two each from Homer and Bruce Jackson; two from long-time colleague David Marshall of the Marshall Family; one, "The Old Love Letter," that had been recorded just a couple of years earlier for a sister label to Mountain Home by Southern Gospel legends, The McKameys; a pair of standards in "Just A Closer Walk With Thee" and "When The Savior Reached Down For Me," and a left-field choice of Mississippi Fred McDowell's "Gotta Move," here given a classically up-tempo bluegrass treatment.  
Regardless of source, each of these songs gets the quintessential Larry Sparks treatment: simple, sturdy arrangements that center on the master's powerful yet nuanced approach to both guitar work and singing and an emotional, compelling delivery especially well suited to the album's gospel messages. For while many brilliant musicians have passed through the ranks of his band, the Lonesome Ramblers, there has never been any doubt as to who's in command, whether in the studio or on stage. Long out of print, New Highway is an important addition to a catalog that stands among the best bluegrass has to offer.
Listen to New Highway on digital platforms HERE.
Tags : Larry Sparks New Highway Larry Sparks New Highway Bluegrass Gospel