Balsam Range's Darren Nicholson Goes Solo with "Leave It In The Hands of the Lord"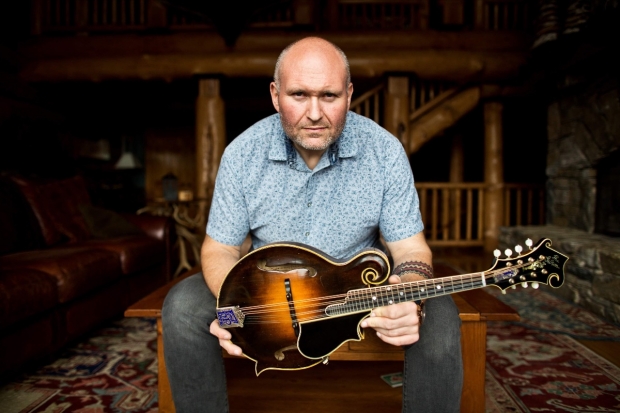 Darren Nicholson, founding member of award-winning bluegrass quintet Balsam Range, has released his solo single. "Leave It In The Hands of the Lord" was born out of a conversation that [co-writer] Mark Bumgarner and Nicholson were having in his beautiful Blue Ridge mountain cabin. The sentiment is simple and powerful; Let Go and Let God.
Backed by guitarist Colby Laney, whose inspired introduction establishes the song's catchy, classic groove; banjo man Wes Corbett (Sam Bush Band); fiddler Billy Contreras (Ricky Skaggs & Kentucky Thunder); and bassist Zack Smith (Town Mountain), Nicholson delivers the song with deep, personal conviction - a sense shared by his wife, who contributes strong harmonies that bring a dose of Black gospel influence to bear on the performance. Short and to the point, the song reaches its pinnacle in a penultimate chorus that places handclaps provided by members of labelmates Chris Jones & the Night Drivers, who happened to be recording on the same day, under soulful improvised lines from Jennifer Nicholson.  
"I've run my own life into the ground at times trying to be my own God and wanting to control people, places, and things in my life," confesses Nicholson. "It took a while, but I finally found strength in letting go and relying on God more. I hope folks like the song. I just wanted to share my personal spiritual experience as well. The song's message and intention are meant to be fun, uplifting, and inspiring. In short, it is 'turning things over' and a hopeful feeling that makes you want to GET UP AND SHOUT!!!"

Listen to "Leave It In The Hands Of The Lord" HERE.
Nicholson is a bluegrass and Americana musician based in Haywood County in the mountains of western North Carolina. A GRAMMY-nominee and recipient of multiple International Bluegrass Music Association Awards, Darren has appeared countless times on WSM's Grand Ole Opry, at the Ryman Auditorium, CMT, GAC, and many of the world's most famous venues and networks. Darren is also renowned as a solo artist, session musician, and songwriter. After concluding a 15-year tenure as a founding member of award-winning bluegrass quintet, Balsam Range, Darren is taking the next step forward and releasing music of his own. 
Tags : Balsam Range Darren Nicholson "Leave It In The Hands of the Lord" darren nicholson Bluegrass Gospel