David Holt Joins The Sharps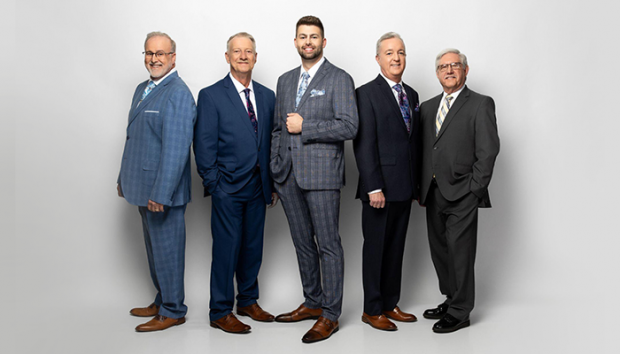 David Holt will be joining Southern Gospel quartet The Sharps as the ensemble's pianist. The quartet is owned by father and son Andy & Ben Sharp, who sing tenor and baritone respectively. They are joined by lead singer Mike Leath, bass vocalist Tony Lewis, and now newest member and pianist David Holt.
On joining the group, David Holt said, "I'm thankful for Ben and the guys giving me this opportunity to share the music I love. I've really enjoyed getting back on the road and experiencing the movement of the Holy Spirit as we minister to people. God is still leading and my place in the group is evolving each week."
Holt is no stranger to gospel music. He was a founding member of the gospel trio, Renewed, that was based off of Sand Mountain in the 90s. But since that group's retirement several years ago, he has prayed for an opportunity to return to traveling. David will be the group's pianist as well as an additional vocalist that will be featured on occasion.
The Sharps just had their 8th consecutive single with Jan Puryear Promotions, "Worth It All", chart on February SN Top 80. They average eighty to one hundred performances annually and have released four major albums since 2014, with a fifth on the way.
Recently, the quartet has been featured in events such as National Quartet Convention, Dollywood, Alabama Gospel Roots TV, PBS Television Network, The Gospel Greats, Gospel Music Today, Singing News, Atlanta Live, and Ascending Sounds TV.
Andy Sharp states, "I've dedicated almost forty years of my life to this ministry and its mission. And at this point in my journey, I am excited at the doors God has closed and opened for us. I look forward to our followers who are familiar with us in the past 4 decades to hear and be a part of this next chapter."
Ben Sharp added, "God is using our group in a mighty way, and He has placed the exact people we need for this particular time in and around our ministry. I know God has great things in store for our obedience."