Author K.T. Griffiths Opens Up About Children Struggling with Mental Illness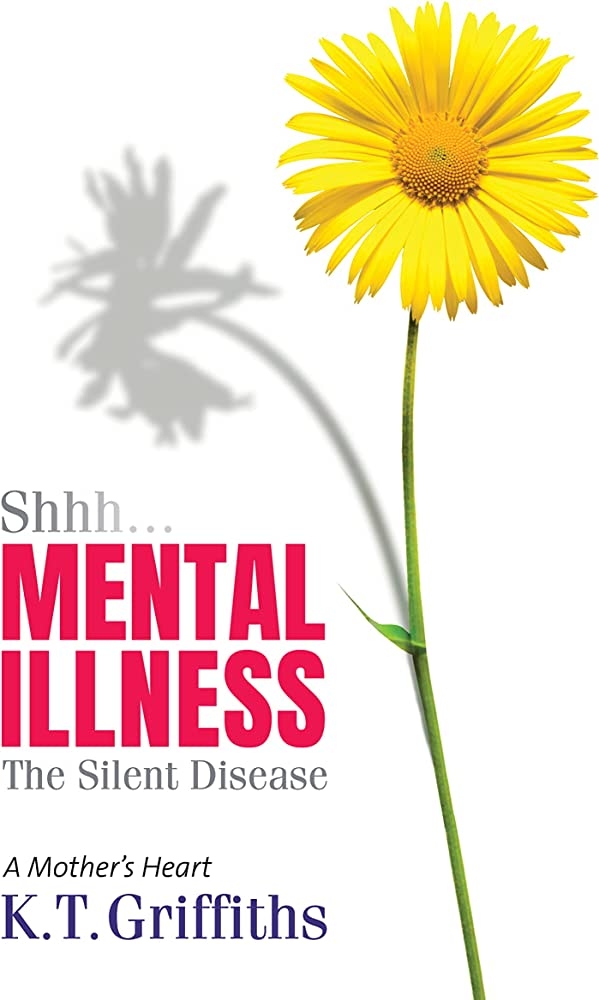 Shhh....Mental Illness: The Silent Disease is a new intimate memoir designed to bring hope and community to caregivers of those who are battling mental illness. Told from the heart of a mother, author K.T. Griffiths, Shhh...is published by Morningstar Publications and is now available in paperback and Kindle formats. 
Each day, news headlines and daytime TV programs share a myriad of stories attempting to normalize issues of mental health. Doctors align mental health conditions with other health crises such as cancer, diabetes, and heart disease, yet those who are battling this illness and their families, too often suffer in silence and isolation.
Based on K.T.'s journals, Shhh... explores the rollercoaster ride of mental illness and provides valuable insights into coping with the shock, anger, and devastation of this challenging disease.  Sharing her heart of loving a child battling mental illness, the book argues there is always beauty amid the broken, and that brighter days are ahead. 
Q: K.T., thanks for doing this interview with us. Let's start with your family, when did you realize that one of your children had been suffering with mental illness? What were some of signs?
Yes, there were signs, I just didn't notice. My daughter repeated kindergarten and had a slow start learning. It was an 8th grade teacher who asked me to get her tested, that she suspected ADD. She could not sit still in her seat aways getting up sharpening pencils moving around when everyone else was seated, etc... The extensive report came back with ADHD, the report also showed her strengths and weakness. It was all a good process of understanding how she was wired. There were so many good things that she scored really high but it did show the weaknesses also. Depression and Anxiety were also a part of her life at such a young age. The doctor recommended to start a base line med that was non addictive.
Q: What then did you do about it? 
I had a tutor set up to come to the school or home to help in the areas of learning keeping up with homework assignments etc... Our kids do not fit into a box they are creative, and full of ideas, so I would listen to her stories of her dreams for her future. 
Q: What are some of the challenges parents with such children faced? And how do you deal with them? 
Our children are the super sensitive ones they can feel the atmosphere in the room and it could put them in a defense mood or a mood of interacting with everyone having a great day. Some times our  children are bullied or blamed for bullying with parents and child ending up the the principles office. Our children sometimes seek attention so we put our daughter in dance class to keep her moving. 
Q: In your book, you also mentioned that there's beauty in the broken, can you share with us some of such joys? 
I will always see my daughter that I love. She makes bad choices and her persona changes, but she is still my daughter. I don't agree with her choices but I have to let go. My opinions are not her opinions and sometimes I have to step back so she can have a voice, and build her confidence.  But I'll hang on to watching her graduate from high school as a big win. She is resilient with a good sense of humor and to me she's beautiful, even though others might cast her aside she is a fighter, a survivor. And that to me is beautiful. She lives! 
Q: You also talk about the importance of self-care. How should parents with children suffering with mental illness be mindful of self-care?
Sometimes we are so in the moment that we do forget about ourselves. I take time with the Lord in prayer and also I have friends to call. I love getting my hair done and of course my hairdresser knows everything.     Find something that works that takes away worry and fear, because we are not the answer. We are to guide our children  so they mature. Do something you love or do something you use to do that you have forgotten about it could bring you joy! 
Q: How has all of this impacted your faith? 
I grew up listening to stories from my grandmother about miracles the Lord did. So I knew how real the Lord was, in the 7th grade I committed my heart to the Lord. I've always had faith He hears me and he knows my heart for Him and my family. I know He cares about the big things and the little things that impact my life so I trust Him with everything. As parents sometimes we get it right and sometimes we get it wrong other times we are still learning. That's where Gods grace comes in. 
Q: Some of our readers may have children struggling with mental illness, what words of encouragement do you have for them?
Don't ever give up Hope! God is real and He can help in times of needs. Trust Him with your child and if you have to make the hard decision to admit them to a hospital or to call 911, It's ok, your child will learn that they are not in control but you care enough to get them help. And you might save a life. Have Faith that Hope and Trust leads to Truth and Healing!
Published by Morningstar Publications, Shhh...Mental Illness, the Silent Disease is available in both print and Kindle formats. https://www.ktgriffiths.com/
Tags : K.T. Griffiths K.T. Griffiths interview K.T. Griffiths new book Shhh....Mental Illness: The Silent Disease mental illness