Balsam Range's "What The Years Do" Offers Gems of Wisdom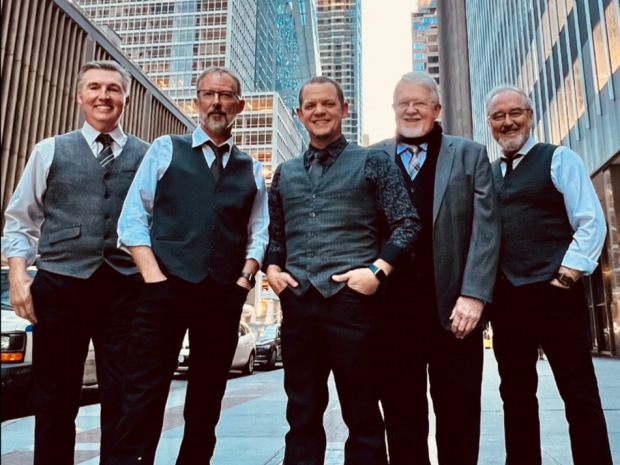 International Bluegrass Music Association's Entertainer of the Year, Balsam Range releases their new song "What The Years Do." This is their first new single in over a year, the quintet not only offers a song as powerfully moving as any they've done, but introduces acclaimed mandolinist Alan Bibey as the first new member of the group since it was founded over 15 years ago.
Though the title and its opening verses might cast "What The Years Do" simply as a meditation on the passage of time and the changes in life it brings, there is a deeper theme that reveals itself as the song moves on. A gentle, syncopated opening led by singer Buddy Melton's fiddle and Bibey's mandolin gives way to the first two verses, which sound almost like a lament for the disappearance of youth and the accumulation of life responsibilities and lead to a sophisticated yet organic-sounding first chorus:
They'll put a wallet size of a baby and a wife
Where all your money used to be
They'll make you realize, they'll shine a light
On the things you never used to see
Change everything you need
Yeah, that's what the years do
Yet following a supple instrumental passage that turns once again to fiddle and mandolin, "What The Years Do" takes a deeper, even more heartfelt turn, as Melton delivers a verse that uses down-to-earth language to articulate an insight that speaks a universal truth:
I never was much on that touchy feely stuff, Heaven knows
But it's just crazy, pretty damn amazing how a heart grows
'Cause it ain't nothing for me to say I love you (and to mean it, too)
Yeah, that's what the years do
The following and final chorus amplifies and extends the acknowledgement of growth, and the final echo that trails away at the end of the song seems to suggest that its lesson will persist through years still to come. All in all, "What The Years Do" is a remarkable song, delivered by a group that knew just what to do with it. 
"I have been a fan of this Adam and Shannon Wright song for many years," says Melton. "I have been waiting for the right time to record and release it, and that time feels like now! It is exciting to be back in the studio recording and releasing new Balsam Range music. Starting our 16th year with such an extremely talented and incredible group of guys, I am so excited to continue growing our musical legacy and setting new goals for our musical journey. 'What The Years Do' is such a meaningful, lyrical song and it fits into where we are as a band, as friends and individuals. It reminds us that life has a way of changing our focus, our needs, our desires and with each year, we grow as individuals. We will all experience different chapters of life and each of those will mold us and shape us to become our best. It's pretty amazing how the heart grows!"

"What The Years Do" is available in Dolby Atmos spatial audio on Apple Music, Amazon Music and TIDAL. Allowing listeners to feel as if they're inside the song itself, Dolby Atmos is familiar to many from its "surround sound" application in thousands of movie theaters. It is described by the respected sound technology innovator as "revealing depth, clarity and details like never before....a sound experience you can feel all around you." Audio produced in Dolby Atmos adapts automatically to your Atmos-compatible device and system to give you an unexpected, all-enveloping sound experience.
Listen to "What The Years Do" HERE. 
Tags : Balsam Range "What The Years Do" Balsam Range bluegrass