Luke Wareham Talks About His Upcoming Live EP & Creating Life Changing Encounters with Jesus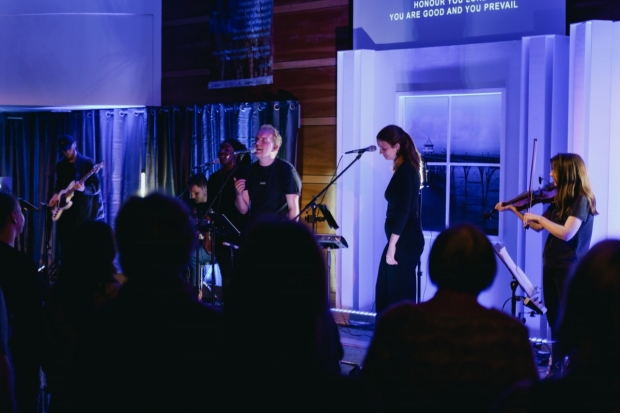 UK-based worship leader and songwriter Luke Wareham returns on May 5th with his new single "Refuge - Live." The song is part of Luke's new live EP (coming June 23rd). "Refuge" has been produced by Ollie Morris. Download or stream the song HERE. 
Luke is worship leader and songwriter based in the South West of the UK. He has a passion for writing songs that lead people into the presence of God, that help people fix their eyes on Jesus and to experience afresh the healing power of the Holy Spirit.  
Q: Luke, congratulations on the upcoming release of your live worship EP. Is there a theme or themes that run through the record?
When recording the new live EP our hope was that the songs would help people to fix their eyes on Jesus. The evening of worship where we recorded the songs was a special time where freedom was released in the room as we gazed at Jesus. As we recorded the songs from the beginning we have had 2 Corinthians 4:18 in mind and it has really spoken to me this year. It says 'So we don't look at the troubles we can see now; rather, we fix our gaze on things that cannot be seen. For the things we see now will soon be gone, but the things we cannot see will last forever'.
Q: Who are some of your co-writers and co-worship leaders on this record?
The co-writers on this EP includes - Sarah Teibo, Rachel Walker Mason and Matt Caddick. Each song has been released as a studio version previously but we recorded the songs during a worship night at my local church - live! It was great to record the songs with some of my friends all who are great musicians and worshippers. We thought about the arrangements of the songs and the addition of cello and violin gives the songs a lovely sound. My friend Ollie Morris produced the songs and gave them a new sound.
Q: Did the songs come to you easily? What normally inspires you to write?
I have been writing these songs over the past year. I love to write songs straight from reading the Bible and often feel most inspired by worshipping on my own at home. Some of my songwriting friends helped me get the songs finished ready to record. I am really excited about releasing these songs and have been using them when worshipping at my local church so recording these songs live I hope will really help people to worship to them.
Q: When and where were these songs recorded? What was most memorable about the recording night(s)?
The evening of worship where we recorded the songs was a special time where freedom was released in the room as we gazed at Jesus. What was so special about the recording was being able to record the songs at my local church in Clevedon with my friends who normally attend the church weekly. We have been using the songs in Sunday worship and they have become songs for our church to sing.
Q: How do you think these songs will speak to the lives of your listeners?
My prayer in releasing the songs is that the songs would help people to have life changing encounters with Jesus, that connect them to the heart of God for their life and that the songs will speak into everyday life situations. Ultimately my hope is that the songs will draw people to Jesus.
Q: How has the making of this EP deepened your faith and knowledge of God?
I am striving to listen and hear from God more and this has deepened my faith whilst also helping my songwriting. A particular song on the EP 'Refuge' is inspired by a journey of grief in mine and my wife's life through the experience of losing loved ones to terminal illness. I learnt that we can walk through life knowing that we never go through our struggles alone, as we have a God who will never leave us. Jesus sees us, weeps with us and longs to draw close to us. As people listen and worship to the songs on the EP I hope that it would help to draw people near to God and trust in him.
Q: Where can our readers find out more about you and your music?
You can download and stream my music in all the normal places and the songs are up on Songselect, Loop Community and WorshipTeam.com to use. I am on all the socials and would love to connect with anyone listening. What I am really excited about from this recording is having the songs filmed and uploaded to my Youtube channel. The videos really capture the worship on the night.  
Tags : Luke Wareham luke wareham interview Luke Wareham new ep Luke Wareham refuge