Remember When Building 429 Released "We Won't Be Shaken"?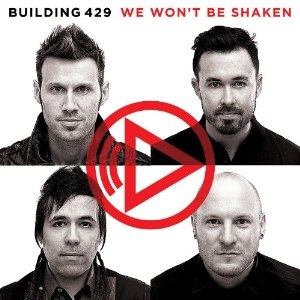 Remember when Building 429 released their We Won't Be Shaken album? Nearly 10 years ago, on June 4, 2013, We Won't Be Shaken was released. The album was the band's sixth record with a major label in Essential Records. It was later nominated for "Best Contemporary Christian Music Album" at the 56th Annual Grammy Awards. 
The album features 11 songs including the band's 15 week No. 1 hit, "Where I Belong (Live)." The third song,"Press On" also features Blanca Callahan of the Group 1 Crew. Produced by Jason Ingram and Rob Hawkins, the set of songs was recorded with all of the band members together in the studio.
Aaron Branch, bassist for the band said that the song, "Blameless," was his favorite from the new album then. "Everyone knows who they were before they were saved, but the Bible says we are now in Christ through God. In God's eyes, we're blameless," he said. "His blood has washed us clean and we're righteous through Him. The lyric says 'You have made me blameless, sin has been made nameless, it doesn't matter who I was before.' It's a powerful lyric to me, and then the sound of the song is very epic and it just adds to the lyric. It makes you feel like: 'I am blameless!' I love that song."   
We Won't Be Shaken features a diverse mix of tempos and styles. The title track, 'We Won't Be Shaken,' encourages believers to remain strong in their faith despite struggles and hardship. The first song on the album, "Get Up," is a more fast-paced song.  It explains the transformation of one's life through Christ and encourages believers to remember what they were made for.
"Bonfire," is a rock anthem with a strong drum beat that emphasizes the ability of Christians to  make a difference in the world.  "Set a Fire," is a slow ballad that proves to be a request to the Lord to rekindle the fire inside of a believer. "Press On," is a medium tempo song that suggests the importance of trusting God through good times and bad.
"Revolution," has a rock anthem feel and calls Christians to form a revolution from the evil in this world.  "All I'm Holding," is another slow-paced piece that reflects on Christ's presence in our lives after He has washed us clean of all of our sins.  "Best and Worst," emphasizes God's ability to use all that we are, good and bad, for our good and for His perfect plan.  "All the Glory," is a beautiful song about putting God before ourselves and acknowledging life is about glorifying Him, not glorifying us.  
When the album was released, the band hoped that their new album would remind people that they are made new in the image of Christ and that this comes with a strength that far surpasses human understanding. 
"We really felt like we wanted to make a record that said, 'Stand up! You have been called. We are God's children. Who can stand against what God has begun?' That's really our perspective," Jason Roy said.
"If you listen to the record you find that there's a little bit of bravado in it, but it's bravado from a standpoint of we don't have to always talk about how weak we are because His strength is made perfect in our weakness. That's what this record is about. This record says, 'Hey, let's go! Let's do this. God is going to use us and we're not going to fail."
Tags : Building 429 "We Won't Be Shaken" Building 429 building 429 news