Mississippi Mass Choir is Rapidly Ascending the Charts with "The Promise"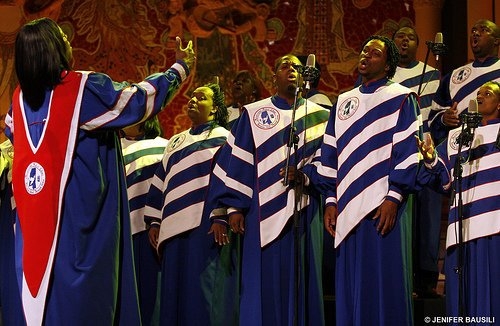 It has been 10 years since the Mississippi Mass Choir has released new music, and radio is quickly taking notice. Just one month after being serviced to programmers, the choir's new single, "The Promise," is #23 on Billboard's Gospel Radio chart, and #29 on Mediabase.
"We are ecstatic about the response to 'The Promise,'" says Mississippi Mass executive director Jerry Mannery, who co-wrote the song. "After a decade away from recording, we knew God was calling us to release new music. This song is an extension of Mississippi Mass Choir's roots: 200 voices lifted in harmony with a fresh sound and renewed energy, reminding people that the promises of God are still yes and amen."
One of those voices is lead singer and co-writer Stan Jones, who also produced "The Promise". "This is 100% a song of faith," says Jones. "Even in the midst of the enormous chaos and confusion going on around us, we have to hold on to the promises of God."
"The Promise" also features the electrifying vocals of Myron Butler, who says the song is "a powerful anthem for the world right now, put forth by a powerful, historic ensemble." "I am proud to be a part of this moment in Mississippi Mass history," adds Butler.
"The Promise" was part of a much-heralded Mississippi Mass Choir live recording at Word of Life Church in Flowood, MS, that also included special guest(s) Tina Campbell, Brian Courtney Wilson, Crystal Aikin, Rev. Milton Biggham, and Paul Porter. That project, "We Still Believe," will be released later this year and will be the 11th Mississippi Mass Choir album.
Currently celebrating 34 years of 'serving God through song,' the Mississippi Mass Choir has received numerous accolades, including three Grammy Awards nominations, 12 Stellar Gospel Music Awards - including the Thomas A. Dorsey Notable Achievement Awards, induction into The Mississippi Music Museum Hall of Fame, Billboard Gospel Artist of the Year and Gospel Record of the Year recognition, a Soul Train Music Award, and countless other honors. They have spread the Gospel through song on international stages in Japan, Italy, Spain, Portugal, France, the Bahamas, South Africa, Canary Islands and Greece, where they were the first Gospel group to perform at the historic Acropolis in Athens.
"The Promise" is available now on all digital service providers.
Tags : Mississippi Mass Choir Mississippi Mass Choir news Mississippi Mass Choir Promise