TrueSong, from the Ark Encounter and Creation Museum, to Drop "Tell Someone"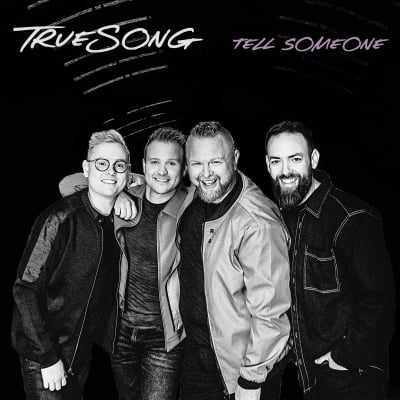 The Ark Encounter and the Creation Museum's very own resident Gospel group, TrueSong, will be releasing their debut Daywind Records album Tell Someone next Friday (June 9th). The group brings great Gospel music to their large daily audiences, infused with worship, southern, and country sounds. TrueSong is nominated as "Favorite New Artist" for the 2023 Singing News Fan Awards. 
Dusty Barrett of TrueSong comments on the upcoming project, "In 23 years of professional music ministry, this project, Tell Someone, is the best thing I've ever been a part of. The team surrounding TrueSong, including our team at AiG, Daywind, our producer, and all of the musicians and engineers, are elite. They made this entire process fun, and the finished project is a result of God putting everyone together at the right time. I'm excited to share this music with the world." 
Two singles have preceded the album. "Army of Love" was released on April 28 and "Believe for It" dropped on May 19th.
Dusty Wells, director of Artist and Label Relations for Daywind, comments, "For those of us in the A&R part of the music business, every now and then you will hear a group and their 'sound' just jumps out at you in the most amazing way. I have known a few of the TrueSong members for several years. Dusty Barrett sent me a couple of demos. I listened and then listened again, and WOW ... I knew I had to sign them. I love their heart, their call, their passion and I love that they want to see lives changed with the music that they are bringing to a hurting world."
Wells added: "What an incredible opportunity for us here at Daywind Music Group to partner with TrueSong and to work with the wonderful and talented team at the Ark Encounter and Creation Museum, part of the worldwide ministry Answers in Genesis. This new project is a blend of worship, inspirational, and Southern Gospel music that will touch countless lives. I am so excited for everyone to hear the music and share in the message of TRUESONG."
Tracklist:
1. Army of Love
2. I Got Saved
3. Jesus 1 Death 0
4. Believe For It
5. Grace Talkin'
6. Child of The King
7. El Shaddia
8. Old Church Choir
9. Waiting For Me
10. Revival
11. Didn't See That Comin' 
Tags : TrueSong TrueSong new album TrueSong Tell Somebody creation museum ark encounter Daywind Records