"CHILD SUPPORT Gospel Stage Play" Brings an Awareness to the Devastating Issue of Absentee Fathers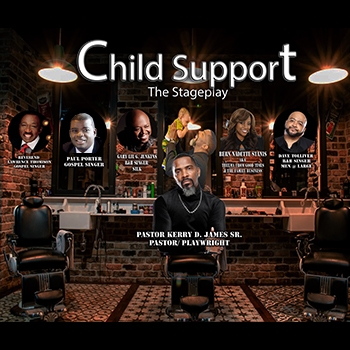 Nashville, TN-based playwright Pastor Kerry D. James, Sr. hopes to bring awareness to the issue of absentee fathers with new CHILD SUPPORT Gospel Stage Play.  Kerry's fascinating and informative live theatrical production depicts and brings to the forefront the real-life situations that involve the positives and negatives of our nation's current child support system. 
CHILD SUPPORT portrays the more affirming and accurate account of most absent fathers.  CHILD SUPPORT will overtake you with laughter, prick your heartstrings, and trigger tears.   Kerry crafted this production to be entertaining and life-changing by showing how God can take the worst situations within a family and offer hope, reconciliation, and restoration. 
Kerry's brilliant, star-studded cast includes Bern Nadette Stanis (Good Times, The Family Business), Gary "Lil G" Jenkins from the R&B group SILK, singer Paul Porter of the iconic Gospel Quartet group The Christianaires, R&B singer Dave Tolliver (Men At Large) and traditional Gospel vocalist Lawrence Thomison.  
CHILD SUPPORT will have two showings on Saturday, July 29, at 3PM and 7:30PM at the Tennessee Performing Arts Center, 505 Deaderick Street, Nashville.  Tickets are on sale now at TPAC.org.  You don't want to miss this show!
Tags : Pastor Kerry D. James Sr. CHILD SUPPORT Gospel Stage Play Bern Nadette Stanis Gary "Lil G" Jenkins