Pat Robertson, Founder of Christian Broadcasting Network, Dies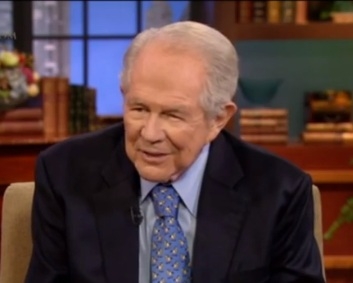 Pat Robertson, longtime TV host, religious broadcaster, educator, humanitarian, and one-time presidential candidate, has died. He was 93 years old. Robertson died in his Virginia Beach home Thursday morning. Robertson is survived by four children, 14 grandchildren and 24 great-grandchildren. 
Robertson is best known for offering prayer and political commentary at the helm of The 700 Club, the flagship program of his media ministry. In 1960, Robertson founded the Christian Broadcasting Network, or CBN. Its flagship program, "The 700 Club," remained a regular fixture on national television into the 21st century. Begun as a local television station in Portsmouth, Virginia, CBN's programming can now be viewed globally.
"Today, CBN is a multifaceted nonprofit organization that provides programming by cable, broadcast and satellite to approximately 200 countries, with a 24-hour telephone prayer line," noted the station's website.
By 1988, Robertson ran for the presidency himself - stunning the political world with his second-place finish in the Iowa caucuses. Although he lost the 1988 Republican nomination to George H. W. Bush, Robertson's candidacy changed the face of American politics. "He shattered the stain glass window," reflected Bishop T.D. Jakes, pastor of the Potter's House in Dallas. "People of faith were taken seriously beyond the church house and into the White House."
With his return to CBN after the failed campaign, Robertson took the company globally, dramatically extending the reach of the ministry's Christian programming to over 150 countries in more than 100 languages through satellite technology. 
In 1977, Robertson founded Regent University in Virginia Beach, serving as its president and chancellor for many years. The following year, he founded Operation Blessing International Relief and Development Corporation. Robertson founded and co-chaired International Family Entertainment, Inc. in 1990, which became the Fox Family Channel and then ABC Family when Disney acquired it in 2001. Robertson also helped found the conservative law firm the American Center for Law & Justice in 1990 and has authored nearly 20 books, both fiction and nonfiction.
Worship leader Don Moen reflects, "I was saddened to hear this morning that my longtime friend Pat Robertson had died. What an honor it was to know Pat, call him my friend, and partner with him on multiple projects over the years. 
"Two of my most popular albums, I Will Sing and Thank You Lord were recorded at CBN Studios, and I was privileged to lead worship at Pat's 80th and 85th birthdays. 
"What a homecoming it must have been for Pat, hearing the words from his Savior, `Well done good and faithful servant!' Now reunited with his wife Dede, he is joined in heaven with countless others who accepted Christ as their Savior because of Pat's obedience to God's call. We celebrate his life and legacy, and pray for the continued work of CBN and Operation Blessing throughout the world. Please join me as we lift the Robertson family up in prayer during this time."