DUPREE Opens Up About Songwriting, their New Album, Singing on World Youth Day, & More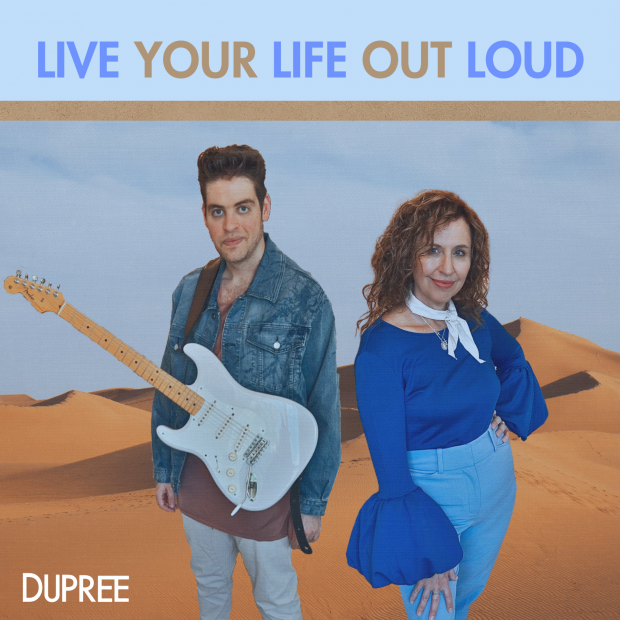 Christian music duo DUPREE has just released their brand new album Live Your Life Out Loud. The album features the title track which is an anthem about focusing on the real and meaningful times of your life instead of spending too much time surfing on your phone looking at filters of everyone's life that are not showing the whole picture.  
DUPREE is made up of Dylan Dupree and Lauren Dupree. Dylan's soulful, meticulous guitar solos attach a slew of emotions combined with meaningful, hopeful lyrics that deliver feelings of courage, faith and perseverance. Most people are not aware at first that Lauren Dupree is Dylan's mother, which adds an unexpected twist to the duo with warm vocals and smooth harmonies, as both mom and son are songwriters and music producers.  This duo is not what you would expect to hear, and it's a brilliant way to connect families together while using their musical gifts to inspire all generations. 
Q: Thanks for doing this interview with us. Congratulations on the release of your new album. Do the songs on the album have a common theme or themes? 
Of course! We are always happy to do an interview. Thank you so much. It has been a journey working on this album. God is very powerful because the things that were happening during writing it were tragic. This record is living proof that He will help you do your ministry/job when you think that it is impossible. My mom and I sat down and talked about how the songs fit together perfectly. 
The titles themselves are the theme of how you should live a fulfilling life where Christ is present getting you through it. The story of the record is how nobody loves us like God does because he tells us who we are. If we live our lives out loud we can do our ministry and live a fulfilling life. Change will happen and when it does it will come from Heaven above. You have to let Jesus in because the door is Locked From The Inside. Once you let Him in you will have an Awakening. Then, you can meet all of your brothers and sisters on the mountain and show them Jesus. The album concludes with the song "He Can Do Anything" and it is about the miracles that can happen and have happened when we pray and ask God to help us.

Q: What does it mean for you personally to "live your life out loud"?
Personally, we don't know when our time here will come to an end. One thing I do know is that you have to put down the phone and give those who you love the time of day and be who God has made you to be because He loves you for you.
I mentioned a tragedy in our family above. Soon before this album released we experienced my grandma suffering a stroke and is now bedridden and trying to regain movement on her left side. A few weeks later, a very close family member, who is remaining anonymous at this time, was diagnosed with stage 4 cancer. All of this was hard to accept. We have never experienced laying all of our sufferings and sorrows at the foot of the cross until now. Our personal tragedies can help others when we share them and we believe that is what living your life out loud is all about. Doing your ministry and helping others through our music get through times like these.

Q: Did you two write most of the songs on the record? What were some of the highlights in writing for this album?
My mom and I have always written our songs together. This entire album was written by us in our studio. It is a fantastic environment to write in and we're always so honest with each other when we write. Writing songs with your mom is something that is rare and I am very lucky to be able to do it. Then, you have performing with your mom which is even cooler given the nature of our pop/rock music.
I'd say the highlights of writing this album were working on the guitar instrumental "Awakening" and writing a song about the "Light Of The World" painting by William Holman Hunt called "Locked From The Inside." Jesus is trying to open the door and you are the only one that can let Him in.

Q: Do you feel like your songwriting has developed over the years? If so, how?
Absolutely! If you go and listen to some of our earlier songwriting, then you will be able to hear the progression of not only our sound but the lyrics get more relatable because our songs are about personal experiences. We've been through a lot of rejection. Even at church, they have pretended like our ministry did not exist or was invalid. So we went through lots of change and lots of asking God for help and He did help us. Writing is more than just words on a piece of paper and a lot of people don't realize that. It is a feeling inside of you being expressed by the emotions of life.

Q: Your single "Can You Feel It (Change Gonna Come)" is getting attention on various musical platforms. Could you tell us more about this song?
Yes! It is one of our most played songs for sure. It was one of the first times we tried out a dance theme that mixed with a motown vibe with the colorful chords and harmonies. This is why a few songs on the album are dance songs. I knew that something was about to change when we were working on it. What we realized is that God is moving the puzzle pieces from Heaven above. He never sleeps and knows what is truly best for us. 
With this song, you can also think about the change of seasons. They feel different but we always adjust eventually and it is for the better.

Q: I believe you are about to perform on World Youth Day, where the Pope will also be present. Could you tell us more about this historic performance? 
We will be performing 3 different shows there in Lisbon, Portugal on August 1-3. It is our dream show and the first show is a projected 20,000 people. It is an amazing opportunity to share our songs with youth from around the world. This event is is historic because every time it occurs, once every few years, the Pope is present. This year, they waited an extra year because of COVID. This makes this year even more historical than years before. 1.2 million people are expected to be there and it will be amazing. Many lives are changed at this festival and the power of the Holy Spirit is present. Plus, it is in such a beautiful location that is not often talked about until now. The first show stage location is amazing and you can see the ocean.
The stages and performances are: 
August 1st - Stage: Terreiro do Paço (4:50-5:20pm)
August 2nd - Stage: Castelo S. Jorge (5:00-5:45pm)
August 3rd - Stage: Coreto da Graça (10:00pm-11:00pm)

Q: Are you guys touring in support of this new record? If so, where can our readers find out more about your schedule?

A tour will be in the works soon. We do have a show or two coming up that we have not announced. Churches are definitely going to love this show. There is a lot of relatability and energy. We hope to see everyone dancing and worshiping Jesus at the same time.
If anyone reading this would like to host a DUPREE show email [email protected]. 
Our tour schedule is on bandsintown or on our website at dupreemusic.com. We also post show dates on Instagram and Facebook @dupreemusic

Tags : DUPREE DUPREE new album dupree interview dupree news World Youth Day