Ernie Haase & Signature Sound Reflect About their Joys, Challenges, and Hope After 20 Years in Ministry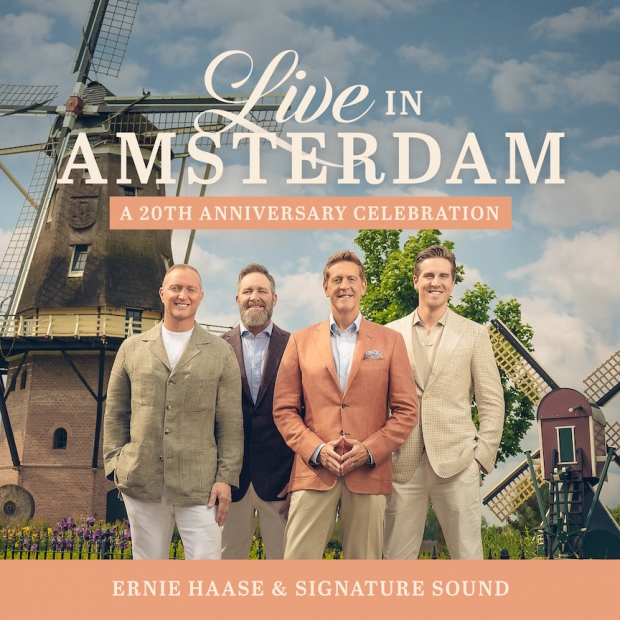 Commemorating two decades of music and ministry, multi-GRAMMY® nominated Gospel leaders Ernie Haase & Signature Sound have just released Live in Amsterdam: A 20th Anniversary Celebration. Produced by 39-time Dove Award-winner Wayne Haun and released by StowTown Records-the genre-leading label co-founded by Haase and Haun-the project was recorded before a capacity crowd at Rafaël Evangelism Center in Amsterdam earlier this year. 
Q: Ernie, congratulations on celebrating 20 years in ministry as Ernie Haase & Signature Sound. What do you think were some of the highlights?
Some of the biggest highlights for me have been singing at the National Day of Prayer event in Washington D.C.; Gaither Homecoming tapings in Jerusalem and South Africa; a Fox & Friends TV appearance during Christmas 2019; and singing the National Anthem at various NBA arenas. Since I live near Cleveland, Ohio, and am a BIG Cavaliers fan, it was exciting to sing the National Anthem at a Cavaliers game. And singing at NASCAR events was really cool. These are some of the highlights that come to my mind.
Q: Not many bands these days can last for such a long time; what values held the team together?
Evangelist Vance Havner said he didn't know all about election and who makes it into heaven... all he knew was the more doors he knocked on, the more people got in. All that to say, at the end of the day, what holds the team together is a work ethic that was instilled in me by my father, Ray Haase, and a joy and a passion for what I do. I don't know how it works this long any other way. With those ingredients, infused with God's amazing grace, when we continue to knock on the doors of opportunity, good things seem to happen.
Q: Looking back, were there any areas in your ministry you would do certain things differently?
Absolutely! I would've believed more whole heartedly that everything is in God's hands! So, I would worry less and trust Him sooner! Corrie ten Boom said it best, "Worry doesn't empty tomorrow of its sorrows, it empties today of its strength."
Q: How did you narrow down the songs from your vast catalog in releasing this new live album?
That was hard for me to do, but then I started thinking about what the fans tell me in the lobby each night about the songs that connect them to Christ. So, in the end, it was those people who helped choose the songs for this project.
Q: Why did you decide to record this album in Amsterdam?
We were going to record a live album in 2020, then the pandemic happened. If we had recorded this in 2020, it would've been new songs, not tried and true songs. Once again, it was in God's hands! He had a plan, and it worked out amazingly for us to be there on our 20th anniversary!
Q: What gave you the greatest joy in making this new live record?
The greatest joy was watching the faces of the people as we performed those songs they knew and seeing the new arrangements take them by surprise, like a tidal wave of love and emotion. Ever since then, singing the songs with these new arrangements has given me the same joy on stage as I watch our most ardent fans being washed over by God's grace fresh and anew by these beloved tunes.
Q: Regarding the near future, do you have more new music coming soon?
We do! We are working on those songs now and will be delivering them the first of next year. With the world of digital music, we can drop new tunes and not have to wait for a complete album. That's what we're going to do.
I'm also going to air season three of my "Friday Night Sing" program starting in January 2024. We use that platform to introduce new music and the stories behind the songs. I'm very EXCITED about that endeavor! Every day, we hear from people all over the world who miss the "Friday Night Sing," so once again the people tell us what they want. We are listening to them and, most of all, to the prompting of the Holy Spirit Who gives us the grace to carry on. Here's to another 20 years!
For further information: erniehaase.com, stowtownrecords.com or turningpointpr.com. 
Follow Ernie Haase & Signature Sound on Facebook, Instagram and YouTube.   
Tags : Ernie Haase & Signature Sound ernie haase & signature sound interview ernie haase Live In Amsterdam: A 20th Anniversary Celebration