Jeff & Sheri Easter's New Christmas Album is Now Available for Pre-Ordering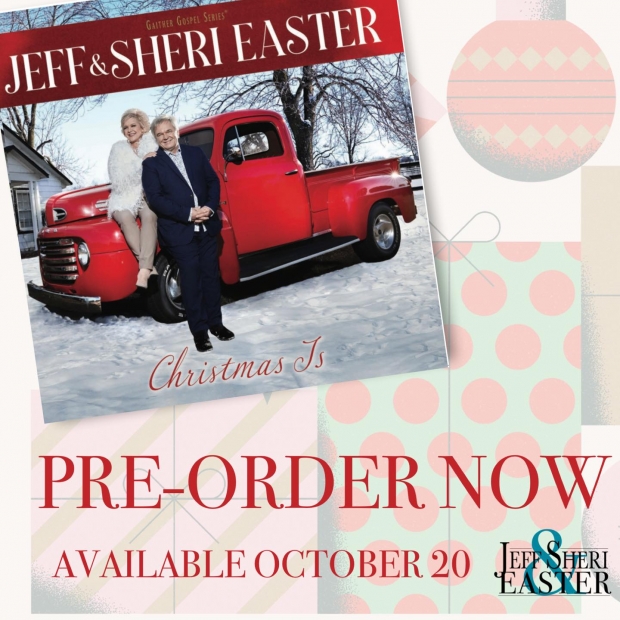 GRAMMY-nominated Jeff & Sheri Easter will be ringing in the season with their new album Christmas Is on October 20. The record will feature their renditions of nostalgic holiday classics along with newly-penned songs, celebrating the joys of Christmas. The album, which will be released by Gaither Music, is now available for pre-order.
From the Western swing of "Holly Jolly Christmas" and country harmonies of "Winter Wonderland" to the beautiful orchestrations of "If You Listen" and the jazzy "Have Yourself a Merry Little Christmas," the group shares what Christmas Is to them-family, joy and faith delivered through an humble birth of a child divine.
Tracklist:
Winter Wonderland featuring Morgan Easter Smith 
A Holly Jolly Christmas
If You Listen
Tis The Season
Have Yourself A Merry Little Christmas featuring Madison & Shannon Easter •
Christmas Every Day
It Won't Be The Same This Year
Miles Into Smile
Christmas Is
Here Comes Santa Claus featuring Ryman Pauline Smith 
For Jeff and Sheri, gospel music is genetically programmed into their DNA. As members of acclaimed musical families-Jeff's father is one of the Easter Brothers and Sheri's mother is a member of The Lewis Family-they grew up surrounded by the sound of people praising God through their musical gifts.
In August of 1984, both were at the Albert E. Brumley Sundown to Sunup Gospel Singing in Arkansas. Jeff, who was playing bass for the Singing Americans at the time, took the opportunity to reintroduce himself to Sheri's mother Polly; they had met on a previous occasion. Polly introduced Jeff to Sheri and the two were married ten months later. They traveled and performed as part of The Lewis Family for several years. But in 1988 they decided it was time to strike out on their own, and they haven't looked back since. 
​Jeff & Sheri have been nominated for numerous Dove Awards and won nine. They've also received two career Grammy nominations, and Sheri has been named the Singing News Favorite Alto eleven times and the Singing News Female Vocalist four times. In 2012, Sheri received Alto of the Year by the National Quartet Convention's first annual awards.  Most recently, Jeff & Sheri were awarded the Trio of the Year for the 2021 Singing News Fan Awards. Jeff & Sheri's wall of awards also include three Society for the Preservation of Bluegrass Music Association Awards, two International Country Gospel Music Association, nine Voice Awards for Female Artist, five Voice Awards for Song/Single of the Year, two Voice Awards for Christian Country Group, four SGM Fan Fair/USGN awards, seven SGN Scoops Diamond Awards, four Hearts Aflame Awards, and three Cash Box awards. They have also participated in the Gaither Homecoming Video Series since 1993.
"When we perform, we want people to leave a little different than when they came in," Sheri explains. "We want them to have a great time smiling, laughing, crying and healing. We want them to know God loves them and that He is in control."
Tags : Jeff & Sheri Easter Jeff & Sheri Easter Christmas Is Christmas Albums 2023 Jeff & Sheri Easter news