RED Releases Double-Sided Single "Cold World" / "Minus It All"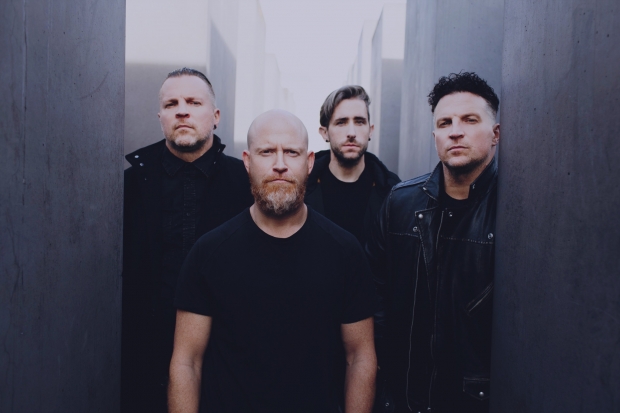 GRAMMY® nominated, RIAA Certified Gold®-selling alternative metal band RED releases its double-sided single "Cold World" / "Minus It All" from RED ENTERTAINMENT / The Fuel Music. The songs are from the band's first full-length studio recording in three years, RATED R, launching Sept. 29 and featuring the SiriusXM Octane added lead single "Surrogates." All three singles are available at digital and streaming outlets globally via https://slinky.to/RatedR, which is where the full album may also be pre-ordered/saved now.
The new album is RATED R for RED, and the band's evocative artistry takes center stage on its eighth studio album, the follow-up to 2020's chart-topping DECLARATION. The new A-side track, "Cold World," comes with a warning from RED guitarist Anthony Armstrong, who produced the song and co-wrote it with Breaking Benjamin's Keith Wallen.
"The track takes a look inside oneself when there's someone or something that's no longer a part of our life bringing us down. We feel a renewed sense of self, but be careful with that high," warns Anthony, "This world can sometimes bring us back an even harder fall."
Anthony also wrote and produced "Minus It All," which he says "challenges us to subtract the constructs of life around us so that our soul can grow. This world wants its pound of flesh, and that's just something we're going to have to give. But giving up some or all of the things that poison us is a choice, a choice that gives us a chance to grow without all the noise."
Consistently pairing sophisticated instrumentation with hard-hitting songwriting, dynamic performances and grippingly personal lyrics, RED's RATED R is a thought-provoking project that tackles several resonant and relevant topics amidst centering on the ideological and interpersonal divisions, confrontations and suffering of modern society. Lead single "Surrogates" kicks things off with noise from news reports, symbolizing how overwhelming the media can be. The band drew upon its filmic past, recording a video for the single in Utah that is in production now. A teaser trailer for the video can be seen at https://youtu.be/dRXTz8Tk17U.
Taking its new music, fan favorites and hits on an extensive international tour, RED launches the first leg of its The RATED R Tour in the U.S. Sept. 8 in Joliet, IL and traverses 26-cities across 18 states before wrapping up at The Masquerade in Atlanta Nov. 19. Following a second string of U.S. dates in the winter/spring, RED is set to rock 135,000+ Graspop Metal Meeting festivalgoers from the mainstage in Belgium next summer with plans to hit additional festivals before traveling to 26 European cities in the fall of 2024.
"Who's ready to get their faces melted live!?" asks RED members collectively. "We are thrilled to hit the road for The RATED R Tour starting this month!"
The fall headline RATED R Tour dates featuring Saul follow:
FRI, SEP 8 Joliet, IL TICKETS VIP
SAT, SEP 9 Indianapolis, IN TICKETS VIP
SUN, SEP 10 Sauget, IL TICKETS VIP
TUE, SEP 12 Bloomington, IL TICKETS VIP
WED, SEP 13 Warrendale, PA  TICKETS VIP
THU, SEP 14 Columbus, OH  TICKETS VIP
SAT, SEP 16  Shippensburg, PA  TICKETS  *
SUN, SEP 17 Greensboro, NC TICKETS VIP
TUE, SEP 19 Virginia Beach, VA TICKETS VIP
WED, SEP 20 Jacksonville, NC  TICKETS VIP
FRI, SEP 22 New York, NY  TICKETS VIP
SAT, SEP 23 Hartford, CT TICKETS VIP
SUN, SEP 24 Hampton, NH TICKETS VIP
FRI, NOV 3 Flint, MI TICKETS VIP
SAT, NOV 4 Milwaukee, WI TICKETS VIP
SUN, NOV 5 Minneapolis, MN TICKETS VIP
TUE, NOV 7 Lincoln, NE TICKETS VIP
WED, NOV 8 Inman, KS TICKETS VIP
FRI, NOV 10 Grapevine, TX TICKETS VIP
SAT, NOV 11 San Antonio, TX TICKETS VIP
SUN, NOV 12 Houston, TX TICKETS VIP
TUE, NOV 14 Jefferson, LA TICKETS VIP
WED, NOV 15 Destin, FL TICKETS VIP
FRI, NOV 17 St Petersburg, FL TICKETS VIP
SAT, NOV 18 Jacksonville, FL TICKETS VIP
SUN, NOV 19 Atlanta, GA TICKETS VIP
* Uprise Festival event
All the latest RED tour updates, news and more can be found at www.thebandred.com, Instagram, Twitter, YouTube, Spotify and Facebook.