Brooke Lightwood "EIGHT" Album Review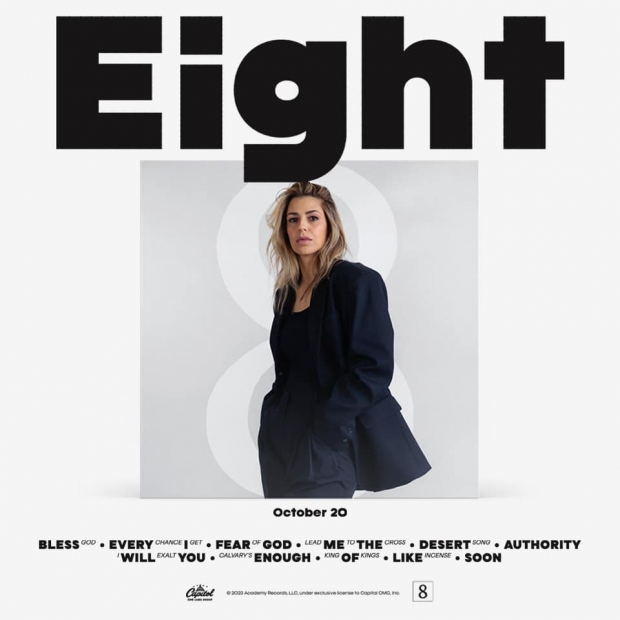 Prime Cuts: Soon, Calvary's Enough, Lead Me to the Cross
Overall Grade: 5/5
Ever since 2006's "None But Jesus," Ligertwood has been one of the staple writers for Hillsong Worship. When some of her earlier compositions ("Hosanna" and "Lead Me to the Cross") began to take off, her role in both Hillsong Worship and UNITED increased. Over the last decade or so, Ligertwood's co-compositions ("What a Beautiful Name" and "King of Kings") have brought the church's music to new heights. With the Australian mega-church in dire straits, it's understandable that Ligertwood is forging her solo path. "EIGHT," her second solo record that bears her married name "Ligertwood," follows on the heels of her highly successful "SEVEN." However, unlike "SEVEN," this new record only consists of 5 new compositions, with the remaining 6 being Ligertwood's fresh versions of the songs she has recorded for UNITED and Hillsong Worship. 
Of the new compositions, "Bless God" (co-writer Cody Carnes has also cut a version of the same song) opens the album on a faith-filled high. A call to "Bless God when my hands are empty/Bless God with a praise that costs me/Bless God when nobody's watching." this is not a song for the weak. Smoothy segueing into the so-catchy "Every Chance I Get," here Ligertwood continues to impart wisdom of how worship can be our lifestyle rather than a 20-segment in a church service. With its apocalyptical lyrics and swampy Gospel-blues tune, the album's lead single, "Fear of God," is Ligertwood's most adventurous track. The album's weakest track has to be the monotonous "Authority;" even Bethel's John Wilds can't salvage the song. Ligertwood has a penchant for writing classic cross-centered songs; she doesn't disappoint with "Calvary's Enough."
The remaining six songs are Ligertwood's take on the songs she wrote for UNITED and Hillsong Worship. The piano-led "Soon," anonymously tucked away in UNITED's "Tear Down These Walls," is thankfully revived. Ligertwood's heartfelt longing to see Christ at the second coming is so sincere that you can't help but shed a tear when she sings, "Though I have not seen him/My heart knows him well." Adding Martin Smith's vocals to "Lead Me to the Cross" gives this UNITED classic a new veneer of freshness. To date, "Desert Song" is still one of the most enduring tracks about praising God regardless of our circumstances. Throw away all distractions and indulge in worship with the reflective "I Will Exalt You."
Even if you are not a UNITED or Hillsong Worship fan, these songs will get you to worship in no time. Every track here is carefully crafted with thoughtful interactions with scripture; there's frankly not a dud here. 
Tags : Brooke Lightwood "EIGHT" Album Review Brooke Lightwood brooke fraser Hillsong hillsong worship Hillsong United #united EIGHT