T.D. Jakes' "Sleep Psalms" Podcast Reaches Top of Charts in First Week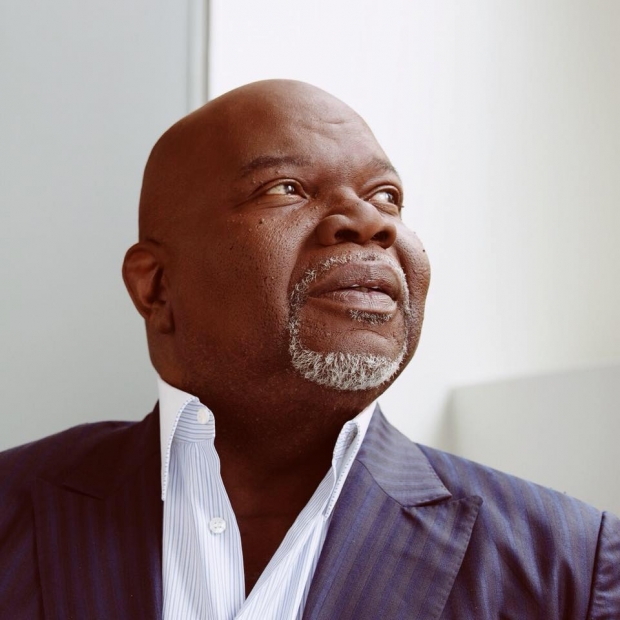 Pray.com, the No. 1 app for prayer and faith-based audio content, and iHeartMedia, the No. 1 podcast publisher globally according to Podtrac, announce the eagerly anticipated launch of "Sleep Psalms with Bishop T.D. Jakes," a soothing, spiritual podcast to enlighten, inspire and deepen faith through the timeless wisdom of the Psalms, offering peaceful nights of rest. Within a week of launch, the podcast reached #6 among all Apple podcasts, #3 industry wide for health and fitness podcasts, and #1 among religion podcasts.
"It's an honor and privilege to work with a multi-generational icon like Bishop T.D. Jakes on a project that helps people battle anxiety, depression, and insomnia," said Pray.com CEO Steve Gatena. "With Sleep Psalms, we are able to bring God's grace to those seeking rest and renewal so they can find a pocket of peace before they go to sleep."
In fact, in a recent study, over 94% of Pray.com subscribers reported that using Pray.com helped to improve their sleep. 
Presented by renowned spiritual leader Bishop T.D. Jakes, this podcast ushers listeners into serene reflection and comfort through the beautiful and poetic messages of God's Word. "Sleep Psalms" features 150 episodes from what many consider the most cherished book in the Bible for restful sleep and renewed strength.
Visionary, provocative thinker and one of the world's most revered communicators, Bishop T.D. Jakes serves as the CEO & Chairman of the T.D. Jakes Group, a global conglomerate at the intersection of ministry and marketplace; who is also the senior pastor of The Potter's House, a global humanitarian organization and 30,000-member church headquartered in Dallas. Twice featured on the cover of TIME, Bishop Jakes' wisdom, care and light shine through his numerous efforts of benevolence, including from within this timely podcast. 
"In a world that often feels chaotic, finding solace and rest is difficult for so many people. In fact, it's one of the biggest challenges I've seen in our world today among countless individuals," shares Bishop Jakes. "This is more than a podcast; it's a nightly retreat into the embrace of the Divine - an authentic solution for those struggling to find peace." 
Offering a serene haven, "Sleep Psalms with Bishop T.D. Jakes" combats sleep deficiency and its symptoms, from increased risk of chronic illness, to higher probabilities of depression and anxiety, to impaired concentration and diminished quality of life. This profound, tranquil podcast allows listeners to improve their sleep and overall health, readying them to face the challenges of everyday life with wisdom and faith.
"Many people are looking for resources to help instill peace and take a break from their hectic day-to-day lives," said Will Pearson, President of iHeartPodcasts. "iHeartMedia is thrilled to partner with Pray.com and introduce 'Sleep Psalms with Bishop T.D. Jakes' to guide our listeners to superior sleep and unwind from their daily lives."
In addition to "Sleep Psalms with Bishop T.D. Jakes," Pray.com hosts podcasts from various leading Christian pastors and speakers, meditative and reflective prayers and Bible-based resources to aid listeners wherever they may be in their spiritual growth journeys. Pray.com podcasts are distributed by iHeartPodcasts.
Find "Sleep Psalms with Bishop T.D. Jakes" and other prayer and faith-based audio content at www.pray.com/podcasts, on the iHeartRadio app and everywhere podcasts are heard. 
Tags : T.D. Jakes' "Sleep Psalms" Podcast T. D. Jakes Bishop T.D. Jakes news