Viral YouTube Kids Series MusicClubKids! Announces Debut Holiday Album "A Very Merry MusicClubKids Christmas"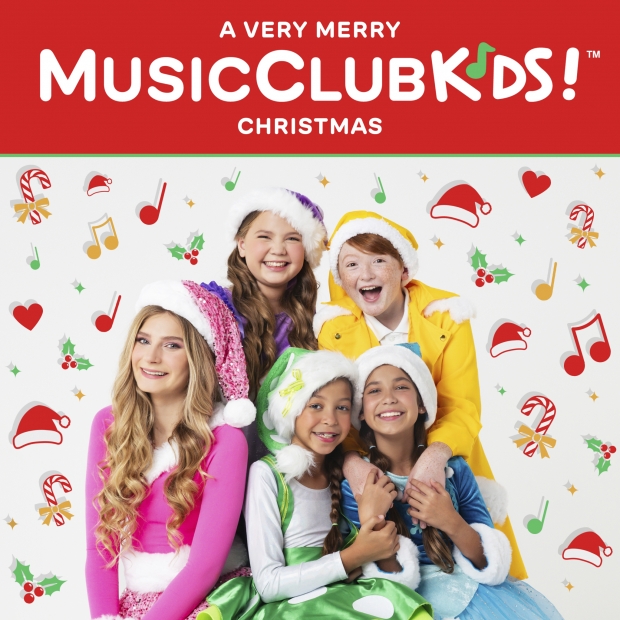 The viral hit YouTube Kids and Family show MusicClubKids! is set to release its debut holiday album, A Very Merry MusicClubKids Christmas, on November 10 via Republic Records: Kids & Family. The 22-track record features new takes on Christmas classics, as well as reimaginations of today's pop hits, rewritten with holiday-themed lyrics, and sung by a cast of kids aged 10-14.
A Very Merry MusicClubKids Christmas shows the prodigal kids at new vocal heights, while also flaunting Grammy-nominated hit Songwriter, Executive Producer and Showrunner Eric Foster White's inventive production, bringing an energetic pop twist to the world's most adored seasonal songs. The new album will eventually have a corresponding Christmas movie, which will be the first feature-length film for MusicClubKids!.
Eric Foster White shares: "This is the rare holiday album that is bursting with creative sincerity and positive energy. I hope it brings as much joy to the world as I felt working with these extraordinarily talented young artists. Azzy Brooks' vocals on 'All I Want For Christmas' are astounding. I'm super excited about the movie too...it has a real shot at being a new Christmas classic."
Bree Bowles, Vice President of Marketing & Strategy from Republic Records adds: "The first time I heard Arrington (Kennedy) hit the same key as Michael Jackson in 'Santa Claus Is Coming To Town,' my jaw dropped, and I have listened to it every day since. This is anything but a 'kids' album; the vocal strength of the group is unparalleled for their age."
A Very Merry MusicClubKids Christmas features a carefully curated selection of timeless holiday favorites including: "Here Comes Santa Claus," "Have Yourself a Merry Little Christmas," "All I Want For Christmas Is You," featuring 13-year-old Azzy Brooks, and a special trap version of "Santa Claus Is Coming To Town" led by ten-year-old Arrington Kennedy who channels Michael Jackson and The Jackson 5's vocal energy.
The album also boasts hit pop singalongs adapted for the holiday season with the blessing of the original artists, such as: "Holidays" (OneRepublic's "Runaway"), "Let's Get Down to Christmas" ("The Business" by Tiësto), "Ask Santa" (Ed Sheeran's "Bad Habits"), "Eye of the Reindeer" ("Eye of the Tiger" by Survivor), and "Santa On My Roof" ("Sunroof" by Nicky Youre, dazy).
Most recently, MusicClubKids! crossed 400 million organic views this year, propelled by the release of 'MusicClubKids! Songs From The Hit YouTube Kids Show: Season One, Extra Seasoning.' Several of the deluxe album tracks have gone viral, including "You Just Got Detention" (91M views, based on Charlie Puth's "Attention") and "I'm In Love With My Doggy" (based on Ed Sheeran's "Shape Of You"). The album also features a fun, Halloween version of Imagine Dragons' "Natural" titled "Supernatural," starring kids entertainer Sam Moran formerly of The Wiggles. 
MusicClubKids! is the brainchild of Eric Foster White, a GRAMMY-nominated hit songwriter who has worked with everyone from Britney Spears to Whitney Houston to Frank Sinatra. White reimagines the biggest pop hits and transforms them into family-friendly "story-songs," with each release accompanied by a mini episode on YouTube.
A Very Merry MusicClubKids Christmas tracklist:
Holidays
Let's Get Down To Christmas
Ask Santa
Here Comes Santa Claus
Have Yourself a Merry Little Christmas
Santa Claus Is Coming To Town
I'm Getting Nothing For Christmas
Eye of the Reindeer
All I Want For Christmas Is You
Santa On My Roof
Santa Claus Is Coming To Town (Jay5 Remix)
Holidays (Sped Up)
Let's Get Down To Christmas (Sped Up)
Ask Santa (Sped Up)
Here Comes Santa Claus (Sped Up)
Have Yourself a Merry Little Christmas (Sped Up)
Santa Claus Is Coming To Town (Sped Up)
I'm Getting Nothing For Christmas (Sped Up)
Eye of the Reindeer (Sped Up)
All I Want For Christmas Is You (Sped Up)
Santa On My Roof (Sped Up)
Santa Claus Is Coming To Town (Jay5 Remix Sped Up)
Tags : MusicClubKids! Christmas 2023 A Very Merry MusicClubKids Christmas Eric Foster White