Anchor Hymns Release "We Will Feast in The House of Zion"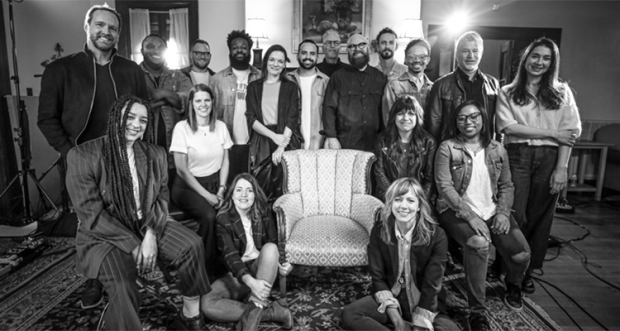 Anchor Hymns release "We Will Feast in The House of Zion," the second single from their awaited new EP.  Anchor Hymns is a multigenerational collective of artists creating songs of substance from both a lyrical, theological, and musical frame.
Originally written by folk songstress and worship leader Sandra McCracken, this version features Antoine Bradford and Chaunda Jefferson, whose blended warm vocals adorn the chilled blues-y background. This new Anchor Hymns single is one of profound hope, pointing to the everlasting Kingdom of God where all pain will surely pass. 
We will feast in the house of Zion
We will sing with our hearts restored
He has done great things, we will say together
We will feast and weep no more

We will not be burned by the fire
He is the LORD our God
We are not consumed, by the flood
Upheld, protected, gathered up 
"This song is a gentle reminder of God's great love for us," Chaunda comments, "it lets me know that there's protection and peace in the presence of God." 'We Will Feast in The House of Zion' is packed with beautiful and hopeful theology made accessible to all as we join together in song. With their rendition of this modern liturgical song, Anchor Hymns remind us that all troubles will be washed away - and that we can already receive peace - when we come into the Lord's presence.
Anchor Hymns is made of Paul Baloche, Leslie Jordan, Taylor Leonhardt, Jasmine Mullen, Dee Wilson, Antoine Bradford, Sarah Kroger, Jess Ray, Tim Timmons, Garrett Tyler, Lucy Grimble, Dwan Hill, Sandra McCracken, Chaunda Jefferson, Brian Eichelberger, Ricky Vazquez, Brent Milligan, and Andrew Osenga. 
Tags : Anchor Hymns "We Will Feast in The House of Zion" Anchor Hymns sandra mccracken chaunda jefferson Antoine Bradford