The 3 Heath Brothers Win 13 Film Festival Awards for "Into The Deep" Music Video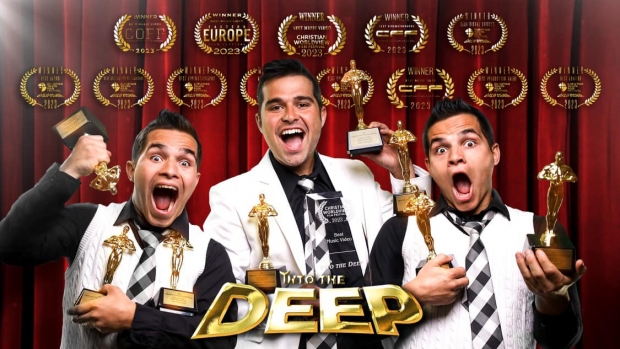 When they released their album, Into The Deep, the 3 Heath Brothers put a spotlight on bold, fresh sounds, new songs and lyrics that offer the eternal Gospel of hope, encouragement, worship and faith in contemporary language. Now, the spotlight has been placed on the trio's music video for "Into The Deep," as it's won 13 awards across three film festivals.
The music video won Best Music Video from the Christian WorldView Film Festival, Eastern Europe Film Festival, Christian Film Festival and Christian Online Film Festival; Best Cinematography at the Christian Film Festival; and the following awards at the Christian Youth Film Festival: Best Cinematography, Best Visual Effects, Best Production Value, Best Directing, Best Original Song, Best Sound, Best Application of Scripture and Best Editing. 
Filmed in Puerto Rico, the "Into The Deep" video captures the song's lyrics, "I'm diving in, into the water / I'm swimming out, farther and farther / Where Jesus is calling me into the deep / Now I'm going in with Jesus / I'm going in all the way" as the Brothers dive off a cliff into the ocean
"We have dreamed about this opportunity for years and are just so honored at the response it has received from the film industry. Thank you God and to everyone who helped make this project happen. It was one of the most exhilarating and exhausting things we've ever done," says Nicholas Heath. "With this video and everything we do, our goal is to encourage believers and to tell stories of faith in creative ways. We hope that the message of 'Into the Deep' will inspire both young and old to press on towards a deeper relationship with Jesus Christ."
Adds Crossroads Music's Greg Bentley, "Since we started working with the 3 Heath Brothers a couple years ago with their Who We Are album, it's been exciting watching them grow in their ideas. As we started their latest album Into The Deep they had this concept for this music video implanted in their brains and were excited to try to capture it, which they did very well. It's exciting to work with young people who have a vision and are extremely creative such as Nicholas, Clayton and Christian. Not only are they capturing the attention of fans in our Southern Gospel genre, but they are reaching further outside and introducing our music to people who may have never heard it. We are honored to work with the 3 Heath Brothers and look forward to their next creative venture to see where it takes us." 
Watch the "Into The Deep" video above and stream the full album HERE.