Sarah Young, Author of "Jesus Calling," Dies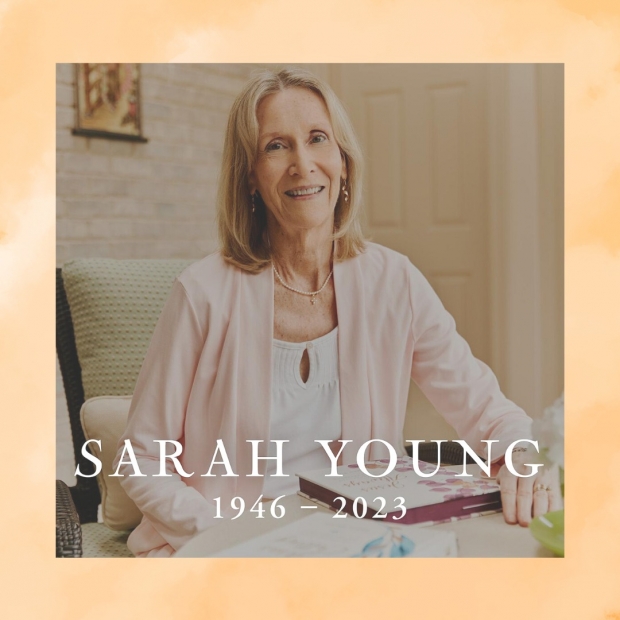 Sarah Young, bestselling author of the popular devotional Jesus Calling, has died at the age of 77. According to a tweet posted by Mission to the World, an organization that Young had served in when a missionary, Young "passed away peacefully" on Thursday afternoon. 
"It has been a joy and an honor to have Sarah Young as part of our publishing family," said Mark Schoenwald, President and CEO of HarperCollins Christian Publishing. "Sarah was a remarkable woman who deeply loved God. Her words have resonated with people from all walks of life, and the global impact of her work is unparalleled." 
Her Memorial service will be held at Christ Presbyterian Church in Nashville at 1:50 on Sept. 9. Sarah is survived by her husband, two children, and six grandchildren. 
With more than 45 million units sold across more than 35 languages, the Jesus Calling brand is one of the most widely read devotionals of all time. Originally published in October 2004, Jesus Calling: Enjoying Peace in His Presence is a 365-day devotional featuring Scripture and personal reflections from Sarah. Inspired by her personal prayer journals, Sarah wrote Jesus Calling to help people connect with Jesus and with the Bible.
"Sarah was a dear friend who will be deeply missed," said Laura Minchew, Senior Vice President and Group Publisher of the Children's and Gift Book Group at HarperCollins Christian Publishing. "Through nearly 20 years of publishing with Sarah, I had a firsthand seat at seeing millions of lives changed through the Jesus Calling books. Her books have met people in their darkest hours, taught children about Jesus, and changed lives for eternity. Knowing Sarah professionally and personally has been the privilege of a lifetime."
Sarah believed that praying daily for the readers of Jesus Calling was an amazing privilege and a God-given responsibility. She committed time every morning to these prayers, often in the sunroom of her Tennessee home. Even as she struggled with her own physical health, and battled cancer, she continued the ministry of these daily prayers.
"Despite the tremendous success of her books, it was never about sales for Sarah," said Michael Aulisio, Vice President and Publisher of the Jesus Calling brand at Thomas Nelson. "Sarah cared solely about leading the reader into deeper, richer relationships with God. It is impossible to measure the effect her words have had."
Sarah's greatest longing was that her devotional books help readers grow closer to Jesus. The publishing team at Thomas Nelson celebrates the tremendous impact of her message, which will continue to encourage generations of readers to approach God confidently and joyfully.
Tags : sarah young jesus calling sarah young Sarah Young funeral Sarah Young news