"Mother Teresa & Me" Will Be in Theaters Oct. 5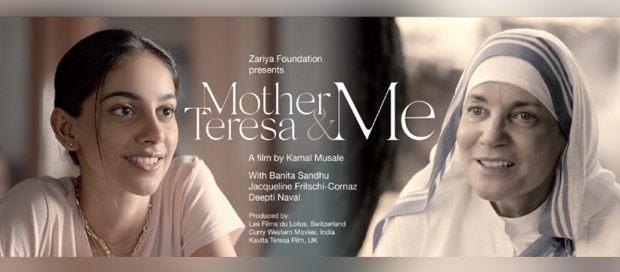 Christian moviegoers from across the nation are preparing to witness the one night only event, "Mother Teresa & Me," in theaters on October 5, 2023. The film tells the inspiring story of Kavita, a young Englishwoman who, when she discovers she is unexpectedly pregnant, flees to Calcutta and discovers the life and legacy of Mother Teresa. Inspired by Mother Teresa's example of perseverance and compassionate love, Kavita rediscovers hope and purpose for herself - and her unborn child.
"The story line is presented with points of tension that are riveting. The faith of Mother Teresa goes beyond her human spirit of despair and identifies with all of us, with a tenacity to demonstrate generous compassion" said Christine MacMillan, Commissioner, World Evangelical Alliance United Nations Multi-Faith Advisory Council.
The film touches on Mother Teresa's "dark night of the soul," when she battled with her doubt and frustrations with her calling from God. Just as Mother Teresa finds her purpose and continues her lifesaving work, Kavita learns to push past her struggles and find her own calling.
"A beautiful display of the challenges of life and how we are called to respond. The movie shows hope in the darkness of difficult situations" said Loretta Fleming, National Committee for a Human Life Amendment.
"Mother Teresa & Me" was recently honored at the United Nation's International Day of Charity on September 5, 2023. The film has already been acclaimed internationally, received the "Best Film Award" at the Mirabile Dictu International Film Festival in Rome.
Directed by Kamal Musale - known for films such as "Curry Western" and "Millions Can Walk" - "Mother Teresa & Me" features actresses Banita Sandhu (Kavita), Jacqueline Fritschi-Cornaz (Mother Teresa) and Deepti Naval (Deepali), and was inspired by Fritschi-Cornaz's trip to India and her experience interacting with the poor. Soon after, visionaries Richard Fritschi and Thierry Cagianut founded The Zariya Foundation to finance the making of this feature film based on the vision and messages of Mother Teresa. The foundation aims to inspire audiences worldwide with positive values such as compassion, kindness, respect and love.
For updates, see the film's Facebook or Twitter.
Tickets are available at participating theater box offices. For a complete list of theater locations, visit the Fathom Events website (theater locations are subject to change; tickets, including group sales, are available at https://www.fathomevents.com/events/Mother-Teresa-and-Me).
"Mother Teresa & Me" is unique as it is entirely financed with donations, and the film's profits will be donated to charitable institutions and foundations that work for the destitute, the sick, the disabled and the abandoned children, supporting them in their education and health care.
Fathom Events is a recognized leader in the entertainment industry as one of the top distributors of content to movie theaters in North America. Owned by AMC Entertainment Inc. (NYSE: AMC); Cinemark Holdings, Inc. (NYSE: CNK); and Regal, a subsidiary of the Cineworld Group (LSE: CINE.L), Fathom operates the largest cinema distribution network, delivering a wide variety of programming and experiences to cinema audiences in all the top U.S. markets and to more than 45 countries.
Curry Western Movies (Pvt Ltd) in India, Les Films du Lotus (Sàrl) in Switzerland and Kavita Teresa Film (Ltd) are the film production companies, directed by Kamal Musale, that have ensured that the movie is produced with the highest quality. The film is officially recognized by The Swiss Federal Office of Culture, the British Film Institute, and approved by the Censorship Board of India.
Tags : Mother Teresa & Me Mother Teresa & Me FILM Mother Teresa & Me MOVIE