New Film MIRACLE IN EAST TEXAS Tells of How God Uses Broken People for Greater Things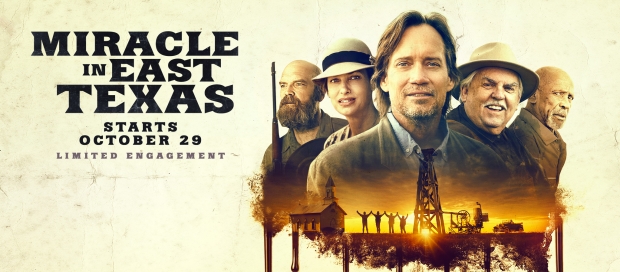 MIRACLE IN EAST TEXAS, the award-winning family comedy, starring Kevin Sorbo, John Ratzenberger, Louis Gossett Jr., Tyler Mane, and Sam Sorbo and will premiere exclusively in select theaters on October 29 & 30th through Fathom Events.
MIRACLE IN EAST TEXAS is inspired by a true story and centers around two con-men during the Great Depression who convince lonely widows to invest in their worthless oil wells. When their scheme is exposed, the unthinkable happens! The movie was filmed in and around the natural beauty of Alberta and Calgary Canada.
Kevin Sorbo, who reached international stardom as the lead in "Hercules: The Legendary Journeys," directed the film and co-produced the film with his wife, Sam Sorbo.
"The quintessential story is [God] takes broken people and He doesn't fix them, but He makes them better. He is a God of redemption. He's a God of forgiveness, which is why the movie's themes are forgiveness, redemption and hope," Sam Sorbo told The Christian Post in a video interview.
"The true story is these men became saved; they became better people through this ordeal. But it goes even further than that because the movie ends, our story is over, but the story of the oil continues. This is actually the oil that allowed us to win World War II, and even Churchill credited East Texas oil with the win. It's why our tanks didn't run out of gas before the German tanks ran out of gas," she said.    
"This is one of those rare films that combines comedy, drama, a little romance, and real-life events and we have been thrilled with the film festival awards we have already received," says Kevin Sorbo. "As independent filmmakers we understand and continue to create trusted entertainment for the entire family. This is a message to the big studios on what families really want."
Tickets for "Miracle In East Texas" can be purchased at Sorbostudios.com. 
Tags : Miracle in East Texas Miracle in East Texas new film Miracle in East Texas new movie